It has been eight seasons since the biggest rivalry in Spanish football expanded its ratio of excitement to the rest of the world. The world has witnessed mythological battles between FC Barcelona and Real Madrid in that timespan.
A rivalry that has offered us moments of contrast and antagonism: Lionel Messi and Cristiano Ronaldo; Pep Guardiola and Jose Mourinho; fútbol de posición (zonal game) and fast-paced counterattacking system; seven Clásicos in one year (2011) – the normal thing would be watching just two per year; a moment of heated relationship among the Spanish players of both teams who have played and won titles for the Spanish national team; winners of the last three Uefa Champions League – Real Madrid (2014 and 2016) and Barcelona (2015). Plenty of documented material that will be useful to write a book about it. But still, El Clásico played at the Santiago Bernabéu on April 23, 2017, was enough to write a whole chapter in that book.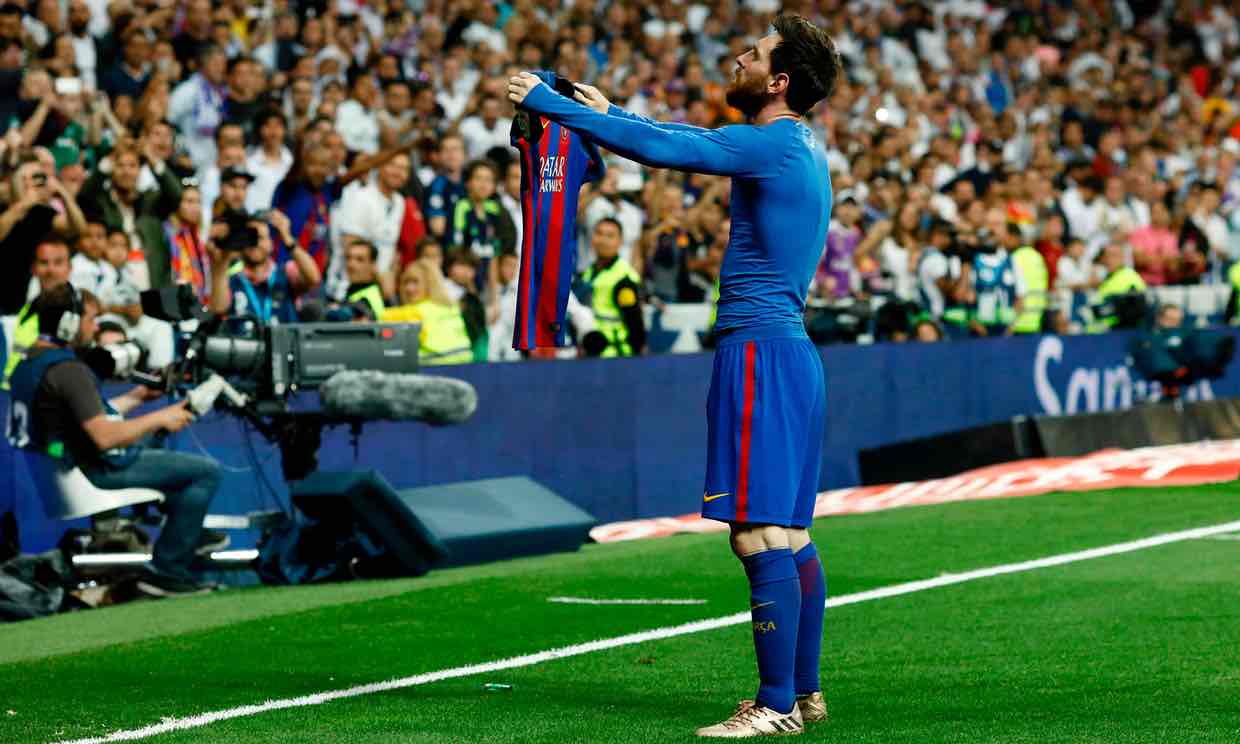 Real Madrid 2-3 FC Barcelona
Lineups:
Real Madrid: Navas; Carvajal, Ramos, Nacho, Marcelo; Modrić, Casemiro, Kroos; Bale, Benzema, Ronaldo. (4-3-3)
FC Barcelona: Ter Stegen; Roberto, Piqué, Umtiti, Alba; Rakitić, Busquets, Iniesta; Messi, Suárez, Alcácer. (4-3-3)
Both teams came into this game with different senses of urgency. It is not a secret that Barcelona was the team that was in a must-win situation. A tie was enough for Real Madrid to maintain a fair distance from Barcelona in the title race. Real Madrid was three points ahead of Barcelona with one game less than them. Not to mention that Real Madrid came to this game after a thrilling overtime 4-2 (6-3 aggregate) victory over Bayern Munich in Champions League. While Barcelona could not come back from that 0-3 deficit against Juventus FC and tied 0-0 at home. La Liga was on the line for Barcelona in enemy territory. Real Madrid did everything that they could to stop them. It did not work. Why? The answer: Lionel Andrés Messi.
First Half: Handkerchief In The Mouth And Roll With It
The way that Real Madrid started the game is one of the reasons why it is the most successful team in football history. Any other team would have decided to be conservative and comfortable with a tie. This was not the case. A white avalanche attacked Barcelona for the first 30 minutes non-stop. Ronaldo had a 2012-ish performance for most of the first half. He was everywhere beating players with his velocity, intelligence to approach open gaps and dribbling ability. In less than two minutes, Ronaldo was the protagonist of a controversial play. He got fouled by Samuel Umtiti after he tried to receive a beautiful one-touch pass by Daniel Carvajal. It was a penalty that the referee did not call. Ronaldo created two beautiful shots each on both wings after that missed call.
The high pressure applied by Real Madrid was crucial in this game. Barcelona struggled several times to build up plays from the back. Luka Modrić, Casemiro and Toni Kroos hovered over Andrés Iniesta, Sergio Busquets and Ivan Rakitić to recover the ball quickly. For moments, they depended on counter-attacks started through the interiors thanks to the association of Messi – who dropped back lines to help in the build-ups – and the rest of the midfield.
The most pivotal moment of the game happened in the 19th minute of the game. After Messi dribbled the ball and left Casemiro behind, Marcelo threw an elbow on Messi's face when both fought for the ball. Messi fell on the grass with his mouth bleeding because of the hit. Why was the most pivotal moment of the game you ask? Because Messi was a man on a mission after receiving that hit. Handkerchief in the mouth and roll with it.
Real Madrid did not stop attacking Barcelona. The velocity and fluidity of the attacking transition were wonderful. The first goal of the game came after a mistake by Marc-André Ter Stegen in a corner. Gerard Piqué and he collided against each other because of a lack of communication. The ball went out of the box and was caught by Marcelo. Marcelo sent a well-measured pass to Sergio Ramos. The Spaniard used his right foot to kick the ball but did not have success because of the post. Ter Stegen made the mistake of following the ball trajectory instead of maintaining his position. The ball rebounded against the post to Casemiro. He was wide open and only have to make a soft touch to score the first goal.
Five minutes later, Barcelona responded with an amazingly beautiful goal by Messi. The play was born in a perfect triangle association between Busquets, Rakitić, and Messi. Messi, Busquets, Rakitić and then Messi again. A series of passes that ended up with Messi dribbling Carvajal inside the area and sending the ball to the left side of the net.
After Messi's goal, both teams created a few more chances to add more suspense and excitement to the game. Unfortunately for Real Madrid, Gareth Bale had to be substituted in the 39th minute because of an injury. Marco Asensio replaced him.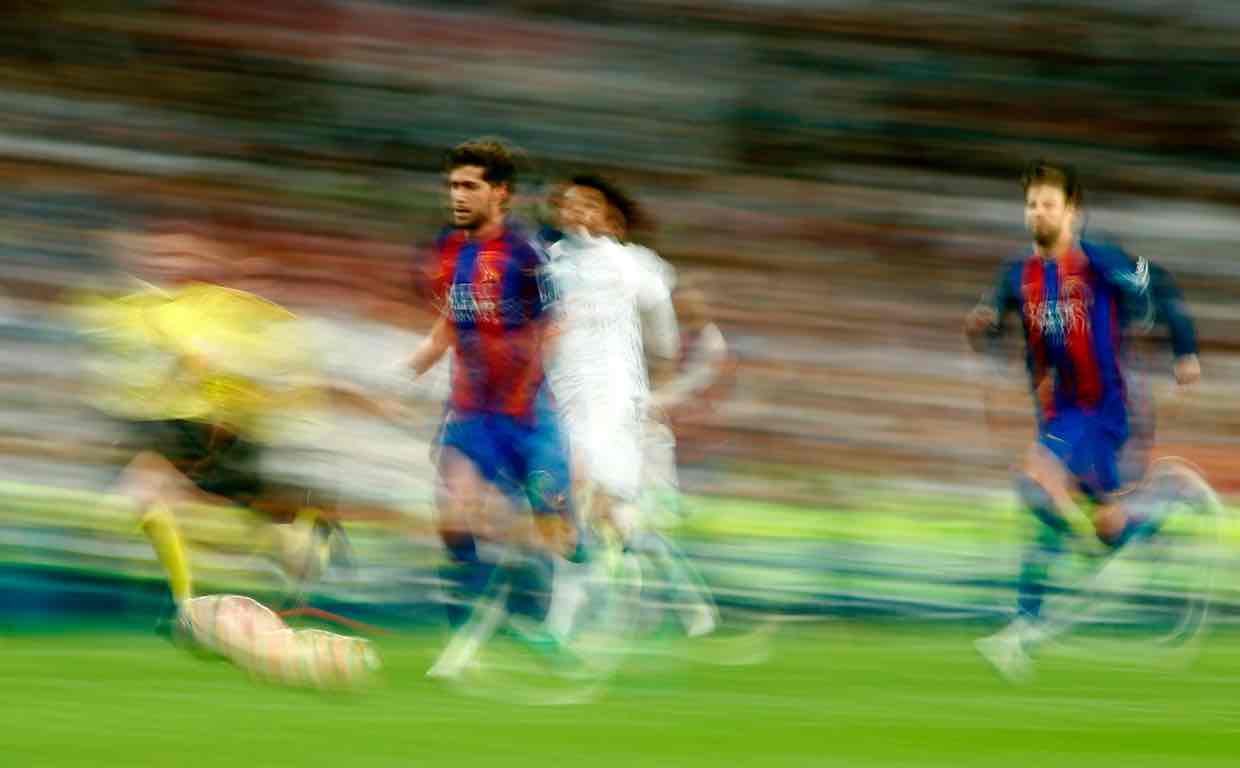 Second Half: A Goalkeeper Showcase
The second half was a tribute to the essence of football. Two teams clashing against each other non-stop no matter the risks of being in ultra-attacking mode. It was like the 22 players were playing in the street on a Sunday afternoon. This game can be used to silence the critics on Ter Stegen and Keylor Navas. Both goalkeepers made outer-world stops that left every spectator out of breath. According to squawka.com, Real Madrid and Barcelona made 22 and 16 shots respectively during the whole game. Eighteen of those 38 shots were saved by both goalkeepers combined.
Karim Benzema, Paco Alcácer, Piqué and Luis Suárez witnessed the talent of these two goalkeepers after each of these players' clear chances were saved. It was attacking football back and forth. No team let the other take a break.
One important thing to take into account was the passing brilliance by both Iniesta and Busquets. Both players had a 93 percent of effectivity in their passes combined, according to squawka.com. They gave tranquility to the ball transition and positional switching. While Messi was dribbling all over the pitch and leaving players with no answer nor way to stop him.
Rakitić was the one who could break the tie in the 72nd minute of the game. The Croatian sent a long-distance, missile-like shot to the left side of the net. He tricked Kroos with his right leg before sending the shot.
Four minutes later, Ramos got suspended after he made a dangerous tackle to Messi in a counterattack by Barcelona. Ramos complained because he did not touch Messi and got into a verbal argument with Piqué. Suddenly it felt like 2011 all over again. It was a dangerous tackle because if Ramos touches Messi, he would have broken the Argentinian's leg. A fair red card.
James Rogríguez, who replaced Benzema in the 81st minute, only needed four minutes to have his "How You Like Me Now?" moment. Kroos, Marcelo and Rodríguez made a beautiful triangulated play. It was like the sequence of Barcelona's first goal. Rodríguez, Kroos, Marcelo and then Rogríguez once again. Rogríguez passed through defenders without the ball easily inside the box. Once Marcelo had the perfect look to send the assist. Rodríguez came wide open and defined with his left foot.
It seemed like Rodríguez's goal meant to be one more step closer to the league title for Real Madrid. With 10 men on the pitch, Real Madrid continued attacking with honor and pride. They wanted the victory. Rodríguez and Asensio had two more chances after that goal.
The environment was so electrifying that a tie seemed unfair. Both teams worked so hard to get the victory. Messi had the last call. The referee added two more minutes. With less than 30 seconds left in the added time, Sergi Roberto made a majestic run while leaving Marcelo behind. A five-on-three counterattack that ended up with Jordi Alba assisting Messi for the final goal of the game. The patience and sense of space by Messi was perfect. He put on the breaks and waited for Alba to send him the pass while Real Madrid defenders kept running to cover the net. Messi used his gifted left foot to score his 500th career goal and a goal that will be remembered by both barcelonistas and madridistas as one of the best goals in El Clásico's history.