Every student-athlete will have a specific reason as to why they wanted to attend the University of Florida. For Anders Eriksson, his reason meant more to him than track and field. Transitioning from Sweden to UF not only gave him a way to compete but the opportunity to succeed outside of his sport.
In general, the key to being a student-athlete is to know how to efficiently balance academics and classes. To Eriksson, being a student athlete all comes down to how you manage your time. While holding both academic and athletic excellence at UF, Eriksson is an athlete that stands out to his coach and community for his success both on and off the field.
Background
The University of Florida has a history of success both in academics and sports. For the past 16 years, UF is the only SEC school to have at least 100 student athletes be eligible for the academic honor roll. According to Dr. Keith Carodine, the senior associate athletics director for UF, the overall GPA for student athletes in Fall 2016 was 3.05.  Currently a sophomore and a thrower for the UF Track and Field team, he is one student-athlete out of many that reflect the academic success of UF.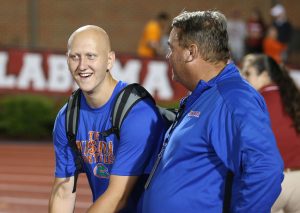 Academic Success
Before he came to UF, Eriksson was a track athlete that wasn't focused as much on academics. It wasn't until he came to the United States that his interest in academics changed. As someone who considers himself "reserved," the biggest challenge he had to overcome was adapting into a more outgoing culture. However, through watching television shows like Family Guy, he was able to get introduced to American society before attending UF.
His opportunity to come to UF was made possible by a scholarship that he received. The scholarship not only lets him compete athletically but earn a degree in Aerospace Engineering.
As a freshman, he saw his hard work pay off. He received recognition for his academic achievements by being on the SEC Spring Academic Honor Roll. Even though he is good at splitting his time between practice and taking classes, he feels that it is difficult to have the energy to keep up with everything.
https://twitter.com/GatorsTF/status/731549087720476672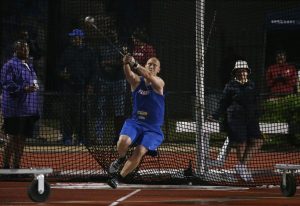 Athletic Success
Eriksson's success isn't just in the classroom, but in athletics as well. As a freshman athlete, he won awards for his hammer throw. The awards included the  2016 SEC Outdoor Championship as well as the 2016 USTFCCCA Outdoor All-American. In addition to that, he also earned the 2016 SEC Outdoor Co-Freshman Field of the Year and currently holds the UF hammer throw record.
Anders Eriksson is your @SEC_TFChamps16 hammer throw champion!!!! #GoGators pic.twitter.com/ZPb1Wqpk1U

— Gators T & F and XC (@GatorsTF) May 13, 2016
#Gators thrower Anders Eriksson delivers a monster hammer throw at Monday's practice: https://t.co/0hkOOOUlGw via @CoachsEye #GoGators

— Gators T & F and XC (@GatorsTF) October 5, 2015
A Sense of Community Away From Home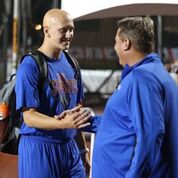 Though Eriksson's time management and organization help him with his overall success, his favorite part about being a student-athlete is the support from his team and his coaches.
By being an international student as well as an athlete, the community aspect is important to him and his coach.  The track community is not only an important aspect to Eriksson's success but plays a part in the support from his throwing coach, Coach Steve Lemke.
Throughout his years of coaching, Coach Lemke has coached Olympic athletes and world champion athletes. But his biggest accomplishment is more personal than any of those opportunities.  Coach Lemke's biggest accomplishment is just the ability to encourage his athletes and help them improve in their specific events.
When assessing an athlete, Coach Lemke looks for people like Eriksson; goal and success-driven while setting a good example for other student athletes. Throughout the rest of his time at UF, Eriksson plans to continue to take advantage of his opportunity in order to create a life outside of track and field.
Follow the link to listen to the interview with Anders Eriksson.