The Golden State Warriors now lead the NBA Finals 2-0 over the Cleveland Cavaliers after a 132-113 victory on Sunday night. With the win, the Warriors maintain home-court advantage and remain unbeaten during the postseason.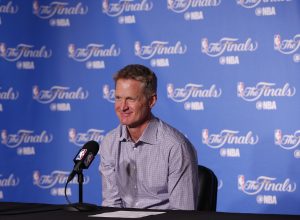 Bay Area Buckets
The Warriors offense was firing on all cylinders last night. They grabbed a 16-14 lead in the first quarter on a Stephen Curry three pointer and didn't trail for the rest of the game. The Warriors' star guard recorded his first career postseason triple-double with 32 points, 11 assists and 10 rebounds. After the game, Curry said he's being aggressive and playing with a lot of energy but added there's another level he can get to.
Golden State forward Kevin Durant scored a team-high 33 points. Cleveland head coach Tyronn Lue says Durant and his teammates play well off of each other. Durant added 13 rebounds, six assists, five blocks and three steals to go along with his 33 points. The Warriors also saw an increase in production from guard Klay Thompson. After scoring just six points in Game 1, Thompson bounced back by scoring 22 points, converting on eight of his 12 shot attempts.
Golden State head coach Steve Kerr, who returned to the sidelines for the first time since April 19, remembers how the Warriors were also up 2-0 in the 2016 NBA Finals and ended up losing. Kerr says his team is just trying to think about the next game.
Series Shifting to Cleveland
After the game, Kevin Love said the Cavaliers need to take care of business and defend their home court. Love played well in the loss and finished with 27 points to go along with 29 points from star forward LeBron James. James finished with 14 assists and 11 rebounds, giving him the eighth NBA Finals triple-double of his career. The accomplishment ties him with Los Angeles Lakers legend Magic Johnson for most the NBA Finals triple-doubles of all-time. The other member of Cleveland's big three, guard Kyrie Irving,  struggled to find his offensive groove in Game 2. Irving finished the night with 19 points on eight of 23 shooting. James says Cleveland needs to do a better job of getting Irving going early.
Game 3 of the 2017 NBA Finals is scheduled to start in Cleveland on Wednesday at 9 p.m.