With the college football season upcoming, University of Maryland head coach and former Florida Gator defensive coordinator D.J. Durkin is excited for the state of Maryland's program. Durkin begins his second season as the head coach at Maryland.   He talked with Steve Russell on Sportscene recently and discussed the upcoming season and last year's foray as well.
Durkin's 2016 In Review
The Maryland Terrapins' 2016 will be remembered for a 6-7 record, 3-6 in Big 10 conference play.
2016 Maryland ⏪

Jermaine Carter's wacky pick-6 at FIU! https://t.co/6yJMKFSGJM

— Maryland Football (@TerpsFootball) May 9, 2017
Despite that, Maryland would punch a ticket to a bowl game against the Boston College Eagles. They would eventually lose a close one, 36-30, in the 2016 Quick Lane Bowl, going up against another former UF assistant in Eagles coach Steve Addazio.
Although defeated, Durkin considers extending the season and a bowl game appearance "very good considering where we were at."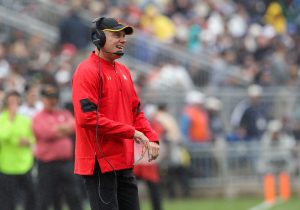 One other situation Durkin would face in 2016 would be a unique quarterback situation. 2016 saw four quarterbacks play and get at least 30 snaps throughout the season. The changes started when the starting quarterback Perry Hills would be taken out with a separated shoulder. This prompted Durkin to play two true freshmen at the position.
The struggles of 2016 were not only on the offensive side but also on the defensive side. They had struggles in stopping opponents last year and is something that Durkin is planning on addressing in 2017.
Durkin's 2017 Expectations
The hope for Maryland is that all the young players that played last year will gain that valuable year of experience to improve their play in 2017.
All about that HARD WORK! #SummerOfStrength || #FearTheTurtle https://t.co/qzxhGz2b1T

— Maryland Football (@TerpsFootball) June 23, 2017
With a group of returning freshmen and the recruiting class they have signed, Durkin believes that they are a much-improved team heading into the 2017 season.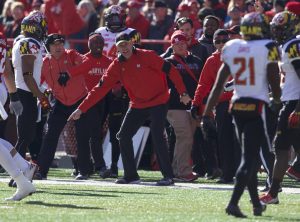 Durkin is very much looking forward to an exciting season. He believes that it is "a very exciting time in the program" and that they are bringing in more than enough talent to help them make noise in the 2017 campaign. Durkin is also looking forward to training camp to "see them sort it out" and help develop the starting lineup of success.
Season Start
The season begins for the Terrapins on September 2 as they travel to a tough match up against the Texas Longhorns. That game takes place at Darrell K Royal – Texas Memorial Stadium on the campus of the University of Texas.
Maryland Football.

Built on Loyalty. Defined by Legends. #Terps125 https://t.co/B6OqFBsEQn

— Maryland Football (@TerpsFootball) June 22, 2017
It will be a test for the mindset of Durkin's team, as well as be the start to a hopeful championship contending season in 2017. The season opener will also be a celebration of the history of Maryland football as they celebrate 125 seasons of football in school history. For more on the upcoming college football season, stay tuned to ESPN Gainesville.