With NCAA basketball returning on November 10th, the Gators are looking to recreate their success from last season and build upon it. One new asset to the team is Dontay Bassett, a 19 year old redshirt freshman out of Oldsmar Christian High School. Bassett is looking to have a breakout season, after missing last year. Bassett was sidelined for the entirety of the season in 2016-17 with a fractured foot.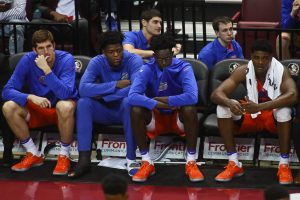 Bassett bouncing back
Bassett describes himself as an active, energetic, athletic rebounder and defender. This style of play will have Bassett relying heavily on his ability to stay healthy and maintain his explosiveness. Standing at six feet and nine inches, Bassett has the ability to both space the floor with his jumpshooting and use his size to bang down low.
Bassett's focus on chemisty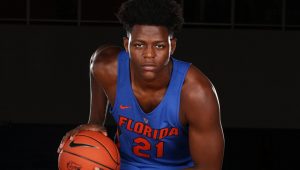 Chemistry is an important factor for winning basketball programs. Bassett had the opportunity to watch the Gators from the sideline last season.
As the Gators marched to the NCAA tournament; Basett studied from the sideline. Watching and learning from the team should help him, but being an active part of the team is what Bassett is focusing on. Bassett touched on what he learned from the sideline.
The speed of the game and how aggressive both teams played were the first things that Basset noticed. Coming from high school and missing a full year of basketball, Bassett will have to adjust to the amount of energy that goes into college ball. Although he was sidelined Bassett said his time off "…kind of prepared me for this year."