The Florida Gators' men's basketball team earned a trip to the Elite Eight last season, showing the strides its made since Mike White's first season.
Center John Egbunu wasn't on the court for that game. Or any of March Madness for that matter.
Egbunu missed the last month and a half of the season after suffering a torn ACL on Feb. 14 at Auburn.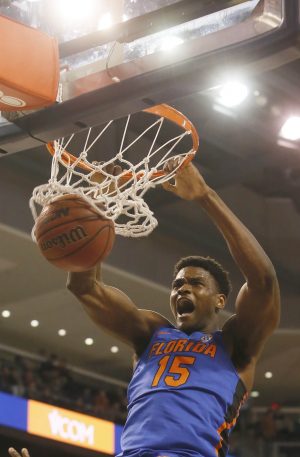 "It was definitely tough, definitely a heartbreaker," Egbunu said at Florida's media day. "It's all a learning process for me, it's all part of it. I'm just looking forward to coming back and helping the team the best way I can."
One of those ways will be with his leadership, even though he's expected to miss the first part of the season. Egbunu returns as just one of two seniors on this 17/18 iteration of the team, with guard Chris Chiozza as the other. That comes as a result of losing four seniors from last season, including key players such as Kasey Hill and Canyon Barry.
Still, Egbunu likes the team has been coming along so far.
"We've got a few, new group of guys and so far, they're catching on pretty well," Egbunu said. "So that's exciting, and they're learning."
Some of those new guys are transfers with some Division I experience. Jalen Hudson and Egor Koulechov figure to slot right into meaningful minutes, maybe even a starting spot, after coming over from Virginia Tech and Rice, respectively. Hudson sat out last season because of NCAA transfer rules. Koulechov meanwhile is eligible immediately as he's a graduate transfer.
Some of the other new guys though have been the latest group of freshmen to come into Gainesville. That means guys like Mike Okauru, Isaiah Stokes, and Deaundrae Ballard. Egbunu's been impressed with they've shown as the season approaches.
"Real good group of guys," he said. "Hard-working. They're always in the gym, always willing to learn, so they've been great so far."
Egbunu figures to be back on the court at some point in December or January. And when that happens, he said his focus is staying on the court.
"Just staying healthy. Last two seasons, I haven't really had the opportunity to do that," he said. "So that's my main focus."
If he does stay healthy, maybe he'll be able to be a part of a trip to March Madness this go around.