Florida's bye week could not come at a better time. After two consecutive home losses, the Gators need time to prepare for their arguably toughest opponent of the year.
Latest Losses
The Gators suffered a tough loss on Saturday against Texas A&M. The Aggies took their only lead of the game in the final minutes of the fourth quarter. Florida struggled offensively; Texas A&M took down quarterback Feleipe Franks five times. Aside from the sacks, Franks threw multiple interceptions, including one in the final seconds of the game.
Florida's loss to LSU last week means they have now lost two consecutive home games for the first time since 2014. The Gators have now fallen to 3-3 on the season.
The Gators are learning through the struggles together, trying to build morale as they head into the bye week.
https://twitter.com/GatorsFB/status/919639067511451648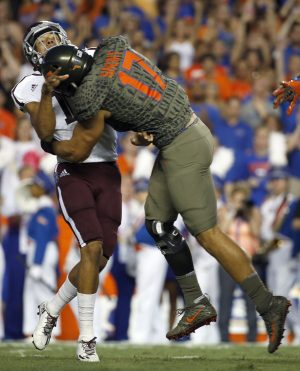 Injuries
Florida has been plagued by injuries throughout the season, the latest being fifth-year senior Jordan Sherit. Sherit, one of the team's top defenders, suffered a hip injury in Saturday's game. It is likely he will need surgery.
The loss of Sherit is big for Florida's defense. The Gators will lose leadership from this veteran defender, as well as one of their top players. Sherit is also another senior loss to this defense; Nick Washington has been dealing with a shoulder injury. Washington did not play in Saturday's game, leaving Duke Dawson as the only senior presence.
Up Next: Georgia
The Gators have possibly their toughest game ahead of them next week. Florida will take on Georgia on October 28th. Georgia has yet to lose a game this season and is currently ranked number three in the AP Poll. The Bulldogs have a bye week ahead of them as well to prepare for the Gators. Georgia quarterback Jake Fromm has led the team to success this season. Fromm's accuracy and quick decision-making will be a test for Florida's defense. This rivalry game will be played at Everbank Field in Jacksonville.