After a thrilling Game 2 on Wednesday night, which resulted in the Houston Astros' first World Series victory in franchise history, the fall classic will head to Houston ahead of Game 3. Houston will be the home of Games 3, 4 and 5. The series is tied 1-1.
However, as much as the Los Angeles Dodgers are looking to bounce back from the 7-6 loss a few days ago, the Astros have some impressive numbers at home this postseason. They are 6-0, have posted a 1.17 ERA and have outscored opponents, 31-7.
All of these factors should make for another epic game tonight if the Dodgers can get the win. However, if they don't get the win, the Astros will continue to dominate their home field advantage.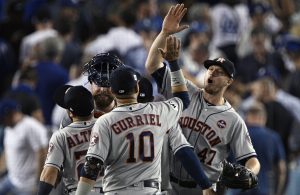 Game 3 Preview
Starters
Taking the mound tonight for the Dodgers is right-hander Yu Darvish. Darvish has had an incredible postseason with a 2-0 record and a 1.59 ERA in 11 1/3 innings pitched. He has also recorded 14 strikeouts this postseason.
Something else to note is Darvish's experience with playing in Texas, and against the Astros, since he was with the Texas Rangers before his move to L.A. this summer. So pitching tonight against the Astros at Minute Maid Park will not be anything new to him.
In his six career starts at Minute Maid, he has gone 4-1 with a 2.16 ERA, which includes a near-perfect game and a separate near-no-hitter back in 2013.
Taking the mound opposite of Darvish is right-hander, and Tampa native, Lance McCullers Jr. who has also posted strong numbers this postseason with a 2.08 ERA in 13 innings pitched. Also, McCullers is known for his wicked curveball that has averaged 85.63 mph this season.
Looking Ahead
After everything that happened during Game 2 on Wednesday night that propelled the Astros to a victory, a question to consider is can they stir up the Dodgers' bullpen again? Before Game 2, the Dodgers' bullpen had not allowed a run in their previous 28 innings of work.
Tonight's game is set for 8:20 p.m. ET and will be aired on FOX.