"At least we're not Florida State." That's the sentence Gator fans find themselves repeatedly saying nowadays.
There hasn't been much Gator fans have been able to get excited about during the 2017 football season. From losing the opener to Feleipe Franks' underwhelming performance at quarterback and losing Luke Del Rio to suffering two straight losses at home, including their homecoming game, it didn't seem like it could get any worse. But then came the firing of head coach Jim McElwain, and now this season has just about turned into a loss for Florida.
Through all this, though, there has been one bright spot — the fact that the Florida State Seminoles have matched Florida's struggles and then some.
A Rough Start
After the Seminoles' loss to Boston College last week, they are off to their worst start since 1976.
"It's like a nightmare, for real. I've never lost this much," linebacker Jacob Pugh said.
With a 2-5 overall record, Florida State's problems began when their starting quarterback Deondre Francois went down in the fourth quarter of their opener against Alabama. This meant true freshman James Blackman was thrown into action with little preparation, and he hasn't been able to get past the learning curve. Other injuries have hurt the Seminoles as well, causing the team to be very young. On FSU's depth chart last week, there were only two seniors.
Averaging the least amount of points of any Power 5 team, the Seminole offense is the biggest problem. In their loss to Boston College, FSU failed to score a touchdown for the first time in 125 games.
Defensively, the Seminoles are tied for last nationally in turnovers forced with only five, and they are 105th out of 130 Football Bowl Subdivision teams in sacks.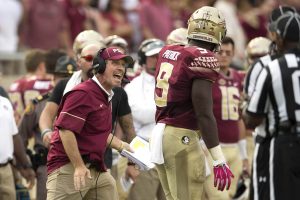 Character Test
Results are not the only problems for Florida State. Pugh cited a lack of leadership as another downfall of the program.
"Lack of leadership, like Coach always says, everybody is doing their own thing pretty much. I feel like everybody is worried about everything else," Pugh said. "A lot of players are probably worried about the draft or whatever else. It's like nobody is really focused."
Head coach Jimbo Fisher is hoping his players step up and make the best of the circumstances.
"There's going to be tough times and tough things that happen," Fisher said. "So, I think it's an excellent opportunity. That's what we're looking for: Guys that want to be part of the solution."
The Seminoles will attempt to turn their season around and save their streak of 40 straight winning seasons when they face an improved 4-4 Syracuse team next week.