The Gainesville Hurricanes have closed their football regular season on a strong note, beating the Eastside Rams 35-14 to move to 8-2 on the season. Gainesville wins the City of Gainesville championship and it has not qualified for the state playoffs.
Defense sets the tone for Gainesville, but Eastside punches back
Gainesville started the game with the ball, but scored no points and was forced to punt. After Eastside got the ball, quarterback Anthony Richardson threw an interception to defensive back Taurean Hill who took it for a touchdown. The PAT was good, making it 7-0 Gainesville.
After the Rams scored no points on their second offensive possession, they successfully converted a fake punt as kicker William Sawyer threw a 20-yard pass to receiver Calvontay Key. This led to a five-yard touchdown run from running back Deion Jenkins. The PAT was good, tying the game at 7 to end the first quarter. That score for the Rams was significant for them. ESPN Gainesville's own Jake Winderman provided some insight before the game.
Gainesville hasn't lost to Eastside since 2008. Canes have outscored Rams 218-0 in past 6 games. Eastside hasn't scored on GHS since 2010. https://t.co/cpTPY581fy

— Jake Winderman (@jakewinderman) November 3, 2017
In the second quarter, Gainesville receiver Isaac Meacham caught a 51-yard touchdown reception to help put the Hurricanes up 14-7. The Rams, however, would easily answer back as Richardson ran for a five-yard touchdown. The PAT was good, tying the game at 14 to end the first half.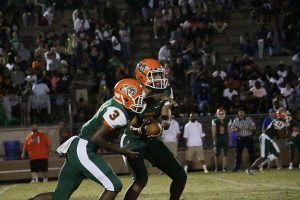 Gainesville runs away in the second half
In the second half of the game, Gainesville quarterback Luke Matthews tossed a touchdown pass to receiver Jalen Kelsey to help put the Hurricanes up 21-14. Later, receiver Christian Miller-Cardwell caught a touchdown pass to help put Gainesville up 28-14. A second pick six by the Hurricanes gave them their final TD and made the score 35-14.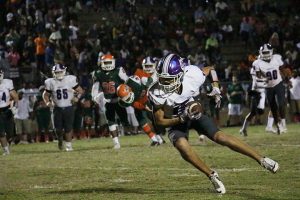 Gainesville suffocates Eastside with swarming defense
Gainesville won this game thanks to incredible defense. The Hurricanes came up with five turnovers including three interceptions and two fumble recoveries. Hill was the standout with two pick sixes.
What the winning coach said
After the game, Gainesville head coach Mark Latsko gave his thoughts on his team's performance including how the defense did and what the team needs to do to prepare for the playoffs.
What's next?
Gainesville will await its playoff opponent while Eastside's season comes to an end.