The No. 1 Duke Blue Devils (3-0) affirmed their dominance with an 88-81 victory over No. 2 Michigan State (1-1) Tuesday night. The game revealed a lot about Duke's highly praised roster and left MSU with some improvements to consider.
Duke's roster is full of clutch players
Duke's roster includes four freshman ranked in the top 10 of the 2017 recruiting class, including the coveted No. 1 recruit Marvin Bagley III. But it wasn't just the freshman that contributed to the win Tuesday.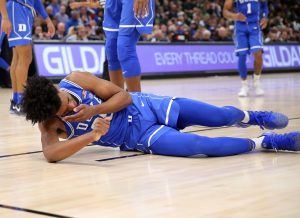 Senior Shooting Guard Grayson Allen
Grayson Allen, the sole senior in a starting lineup with four freshman, set a Champions Classic record with 37 points for the Blue Devils. To make the sting even worse for the Spartans, the record he broke belonged to former MSU player Denzel Valentine, who made 29 in 2015. Most of Allen's offensive prowess came in the second half, after Duke lost Bagley to a right eye injury with 10:09 to go in the first half. Allen's 23 points in the second half proved what many already knew: the Blue Devil's strength isn't hanging on one impressive freshman and Duke is in for another exciting season.
Marvin Bagley III went down … and Grayson Allen stepped up. pic.twitter.com/2A9EC2yBmy

— SportsCenter (@SportsCenter) November 15, 2017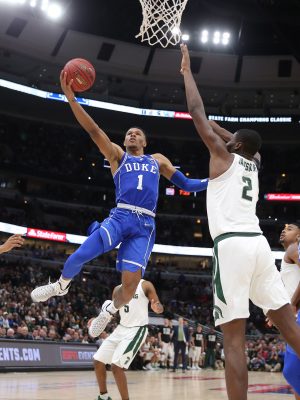 Talented Freshmen
Duke Head Coach Mike Krzyzewski also credits several other stars saying,
"[Head Coach] Tom [Izzo] has such a great program at Michigan State. They're a veteran team and our perimeter with Grayson [Allen], Trevon [Duval], and Gary [Trent] really kept us alive."
Trevon Duval and Gary Trent, Jr. are both Blue Devil freshmen guards. Tuesday's game gave Duke fans a confidence in Duval that he worked hard to earn. Coming into the season, many fans were unsure of Duval's role in the incoming class of so much certain talent and his 17 points and 10 assists this game left no doubt about it–for some. Duval's shooting stats didn't say much for his scoring ability. He went 7-for-20 from the floor and missed all four three point attempts. From the line he went 3-7; however, he was a big player in Duke's impressive victory and nobody is doubting that.
Trent played a crucial role for the Blue Devils, as well. His 3-point splash with 3:11 left in the game lifted Duke out of the tie and made way for the Blue Devil's strong finish.
Gary Trent Jr. made a tie-breaking triple with three minutes left after missing his first 6 attempts from deep:https://t.co/XXpdgA9Dmj pic.twitter.com/Ueit7pDXih

— Duke Basketball (@dukebasketball) November 15, 2017
Michigan State fell short defensively
Spartan Head Coach Tom Izzo said that Duke did play well, but MSU should have played better.
Twenty-one fouls scarred the Spartan's game along with 17 turnovers. Duke's 46 rebounds overshadowed MSU's 34. The Blue Devils were tough opponents but Izzo saw where he and his team could have had more success. According to Chris Solari of Detroit Free Press, Izzo said many of these short-comings were coaching issues and that he needs to work on the playing rotation this season.