The International Olympic Committee (IOC) announced today that the Russian Olympic Committee will be suspended for the 2018 Winter games in Pyeongchang. The IOC cited "systematic manipulation of the anti-doping rules and system" as its reason for doing so.
IOC President Bach on the Schmid report and the decision of the IOC Executive Board. https://t.co/vo6X8IfGKv #IOCEB #Lausanne pic.twitter.com/iub3taSNnA

— IOC MEDIA (@iocmedia) December 5, 2017
What Led To This Ruling
The decision to ban Russia from the 2018 games came after months of investigation that unveiled corruption by every part of Russia's Olympic sports industry leading up to and during the 2014 games in Sochi.
A report by Canadian law professor Richard McLaren, which was commissoned by the World Anti-Doping Agency, was the most recent evidence to emerge in regards to the scandal. This report concluded that 1,000 Russian athletes, anti-doping and scientific personnel, and government officials were all involved in an "institutional conspiracy."
Forensic analysis that corroborated evidence presented by former Moscow lab director Grigory Rodchenkov was the basis of McLaren's work. Rodchenkov designed what they called the "Sochi Plan" — Russia's Olympic doping and test evasion strategy.
"The IOC took a strong and principled decision. There were no perfect options, but this decision will clearly make it less likely that this ever happens again. Now it is time to look ahead to Pyeongchang," Scott Blackmun, CEO of the United States Olympic Committee said.
The IOC has previously been hesitant to intervene and make this decision. Before the Rio 2016 Games, decisions on individual athletes were left up to the individual international sports federations and no higher-ranking officials were sanctioned.
The ruling comes almost exactly three years after the first pieces of evidence of organized doping within Russian track and field were brought to light.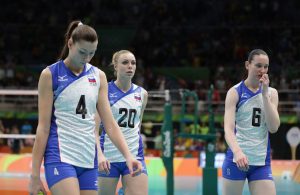 What This Means For Russia
Individual athletes will be permitted to compete in Pyeongchang if they meet certain standards determined by the IOC.
Russian athletes who are ultimately allowed to compete will do so under the designation "Olympic Athlete from Russia" (OAR). They will be given a corresponding uniform, march behind the Olympic flag at opening ceremonies, and hear the Olympic anthem at medal ceremonies.
Russia will also have to pay a $15 million fine to cover investigation costs and to "build the capacity and integrity of the global anti-doping system."
There is a chance the IOC may partially or fully lift the suspension after the closing ceremony in Pyeongchang, provided that Russia responds accordingly to its decisions.
IOC president Thomas Bach said that "every effort" will be made to reallocate 2014 medals to rightful winners in Pyeongchang.
The 2018 Winter Games are set to kick off on February 9th.