The Chicago Bears hire Chiefs' offensive coordinator Matt Nagy, 39, as the 16th head coach in franchise history. The Bears interviewed six known candidates to fill John Fox's position.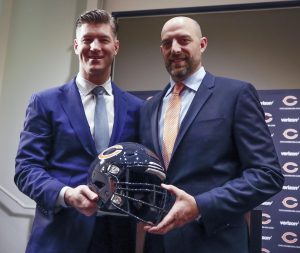 The Bears met with Nagy on Sunday, one day after the Chiefs blew a 21-3 lead to the Tennessee Titans in the wild-card round. And the Bears' weeklong search came to an end. In a recent press conference, General Manager of the Chicago Bears, Ryan Pace, said Nagy is a good match.
According to the Chicago Sun-Times, Pace said, "It starts with his leadership qualities. He's a very natural leader. You're talking about going from one side of the ball to the whole team. From the research and the interview, I felt very comfortable with him in front of the whole team, and that goes back to his quarterback days."
Matt Nagy and the Chiefs
Matt Nagy has been with the Kansas City Chiefs for the last five seasons. Nagy was hired as the quarterbacks coach in January 2013. He served under head coach Andy Reid, whom he previously worked under as the quality coach for the Philadelphia Eagles in March 2011.
In 2016, Nagy served as the co-offensive coordinator before he was promoted to offensive coordinator this season. This past month he took over play-calling duties from Reid. Nagy said he's learned a lot after years of working under Reid.
"The Bears hope to retain defensive coordinator Vic Fangio on Nagy's staff," according to the Chicago Tribune. "But no decision on that has been finalized."
Matt Nagy and Trubisky
Nagy connected with Bears' quarterback Mitch Trubisky, while his former team, the Chiefs, studied him before the 2017 draft. Nagy said Trubisky felt familiar during a six-hour interview between the Chiefs and the quarterback. Nagy said Trubisky was driven, because a lot of teams didn't want him coming out of high school.
Ryan Pace welcomes Nagy as the leader of 53 men and not just a Trubisky whisperer. "This is about more than the quarterback,'' Pace said. "But don't be fooled. Nagy, who will call plays, was hired to make Trubisky the best he can be." Nagy said it himself, he isn't just there for Trubisky.
https://twitter.com/ChicagoBears/status/950913448505937921