The 2018 baseball season has finally arrived for the National Champs.
Nick Horvath, Florida's top defensive outfielder and a cog in the front-end of the Gator's bullpen is back for another season, but for the most part, you can expect to see plenty of new faces out on the field.
New Faces
Horvath said it can be hard and may take some time for some of the new guys to pick up the speed and get going, but he doesn't think this is anything to really be concerned about and the starting lineup is something he feels is pretty solid.
Either way, he knows all the guys who made their way into Gator nation are there because they have earned their spot onto the roaster.
Many of the new Gators have not played in an environment like the SEC and more specifically coming into an atmosphere with fans who are wanting to see back-to-back championship wins.
But the experienced players are here to help guide them into a successful season.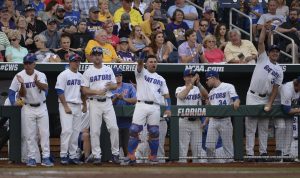 Returning Champs
JJ Schwarz, who is coming back to play for his senior year, and Horvath are both Palm Beach Gardens High School graduates and have been playing together for eight years. For Horvath there's no hiding how much he has seen Schwarz develop and grow on the field.
Champ Pressure?
After being part of the NCAA championship team last year, Horvath knows how important it is to not let that pressure get to him, but instead focus on going out on the field to get the overall job done.
Official start
The Gators are currently ranked No. 1 The Florida Gators open this season on Friday night against Siena at 6:30. This is the first of 34 home games at McKethan Stadium. But it doesn't end there, the Southeastern Conference coaches voted UF as league favorite and four Gators are on the Preseason ALL-SEC Teams.