Some critical games took place in the SEC last night. With less than two weeks remaining in the season, these last few games could be the difference between a ticket to the big dance and a premature start to the offseason.
Ole Miss defeats Missouri 90-87 OT
Perhaps the most exciting game that took place on Tuesday was this narrow victory by Ole Miss. They jumped out to an early first half lead but Missouri was able to cut the lead to seven at halftime. Eventually, Missouri was up by 1 with less than a minute remaining. A steal by Ole Miss led to a fast break opportunity to take the lead. However, an outstanding block by Jordan Barnett erased this opportunity. After some free throws by Missouri and a clutch floater by Ole Miss guard Breein Tyree, the game went into overtime. In overtime, the Rebels buckled down on defense to secure the win.
https://twitter.com/OleMissMBB/status/966170317772161024
Their defense was in rare form, as they gathered 13 steals in what added up to 21 turnovers in the game for Missouri. Tyree was the game's leading scorer with 25 points. After 2 straight losses, Missouri is now 8th in the SEC, and Ole Miss sits at 13th. Still remaining on Missouri's schedule is Kentucky, Vanderbilt, and Arkansas.
Kentucky defeats Arkansas 87-72
The final score may not reflect it, but this was an even matchup between two SEC powerhouses. Arkansas actually had the lead in the second half but were eventually shut down. Kevin Knox led Kentucky with 23 points and 7 rebounds. Daryl Macon finished with 26 points highlighted by this crossover and 3-pointer to end the first half:
Macon with the sit-down 3. pic.twitter.com/rpeMDSuZt0

— Hogtrough (@Hogtrough) February 21, 2018
Kentucky slid out of the top-25 due to a recent cold streak, but with a high profile win like this, they are back on the radar. Arkansas and Kentucky now have identical 19-9 overall records as well as identical 8-7 conference records. Kentucky faces Missouri next, followed by Ole Miss and Florida. Arkansas faces Alabama next and still has Auburn and Missouri on their schedule.
Mississippi State defeats Texas A&M 93-81
Chalk this win up to teamwork for Mississippi State. They moved the ball exceedingly well, finishing with 19 assists. Five players finished with at least ten points, and the bench contributed 23 points. Adversely, Texas A&M finished with 13 assists and only 6 points off the bench. Freshman big Abdul Ado finished with 19 points and 9 rebounds to lead Mississippi State. Lamar Peters also stuffed the stat sheet with 15 points, 7 assists, 7 rebounds, and a steal.
This was a tough pill for A&M to swallow, as they were 12-2 at home before this game. They currently sit 11th in the SEC after losing their 3rd game in a row. Only Vanderbilt, Georgia, and Alabama remain on their schedule. Difficult, but winnable games.
Mississippi State finds themselves in a favorable position for a high seed in the tournament. Their 20-8 overall record speaks for itself, and their remaining schedule of South Carolina, No. 19 Tennessee, and LSU gives Mississippi State a chance to separate themselves as a team that can make serious noise in March.
LSU defeats Vanderbilt 88-78
Tremont Waters stole the show in this one as he surpassed the freshman record held by Ben Simmons for most assists in a single season. He posted 28 points and 9 assists that included some stunning alley-oops and crafty finishes.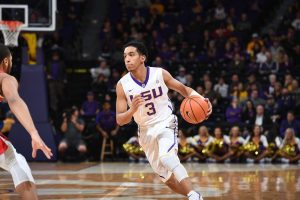 LSU is now 9th in the SEC. Their remaining schedule consists of Georgia, South Carolina, and Mississippi State. The Tigers are on the verge of not making the tournament and may have to win out to even be considered. They've had some questionable losses this season as well as some surprising wins, so this year has been a mixed bag. Either way, they have a bright young star in Tremont Waters who isn't afraid of the big moment.