The Georgia men's basketball team is coming home from a tough loss on the road against South Carolina. On Saturday, Georgia hosts LSU in a conference matchup. Both teams are striving for the NCAA Tournament.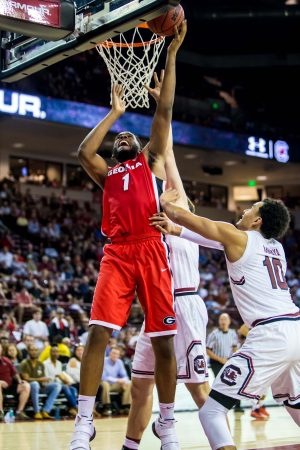 Georgia
Georgia is back at home for a SEC matchup against LSU. The Bulldogs are a defensively aggressive team. They average 38.7 rebounds per game. Coach Mark Fox believes the key to facing heavy hitting teams in the SEC is "to give yourself the chance to win, you have to be great defensively."
Team Stats
Yante Maten leads this team on and off the court. According to Coach Fox, his leadership has brought confidence to each member of the team. Against LSU, this confidence and leadership will provide Georgia with a leg up.
LSU
LSU is ninth in the SEC as they travel to Athens. They defeated Vanderbilt last Tuesday night. Their season thus far is "nothing to write home about" according to head coach Will Wade.
However, they are continuing to improve their overall game while just trying to focus on their rebounding. They need to get their defensive game figured out before facing the very physical Georgia. After already losing to them once this season, they are out for revenge. Coach Wade makes it a priority to make sure they don't get "worn out."
Team Stats
On offense, LSU has three leading shooters. Tremont Waters leads the team with 15.2 average points per game, Duop Reath averages 13.1, and Skylar Mays averages 11.1. Defensively, they are below Georgia with average rebounds per game. LSU has an average of 33 rebounds per game.
Tiger basketball heads to Athens Saturday to take on Georgia, 2 p.m. ET (1 p.m. BR time) on ESPNU and @LSUradio. Here's a preview and media session:https://t.co/oWleAvwprR

— LSU Basketball (@LSUBasketball) February 23, 2018
Game Details
Where: Stegeman Coliseum, Athens Georgia
When: Saturday, 2:00 p.m ET
According to ESPN's Basketball Power Index Georgia is predicted to win.