For teams finishing their seasons in the cellar, the NFL Draft promises hope. Unless, of course, you're the Cleveland Browns.
Despite owning a top-ten choice in five of the last eight drafts, the Browns have yet to find a quarterback capable of steering them out of mediocrity. Cleveland's last five picks at the position — DeShone Kizer, Cody Kessler, Johnny Manziel, Brandon Weeden and Colt McCoy — have won them a total of 13 games. Their combined TD-to-INT ratio stands at 68-to-78.
You'd have to look back to 1999 to find the last time that Cleveland spent a top-20 selection on a quarterback. And in the wake of 2017's winless season, Browns fans are hoping that their club's brass will finally snap that streak.
The thing is, Cleveland might trade out of the top five altogether.
Despite owning the first and fourth overall picks, there's no consensus as to what Cleveland will do. Browns general manager John Dorsey is reportedly open to trading the team's top choice, and days earlier, Bleacher Report's Rob Goldberg asserted that Cleveland is "not presently enamored" with any of this year's top quarterbacking prospects.
According to 247sports's Josh Edwards, the organization is open to drafting one of Penn State running back Saquon Barkley, N.C. State defensive end Bradley Chubb or Alabama defensive back Minkah Fitzpatrick. And at least one mock draft — from NFL.com's Peter Schrager — has Cleveland shipping out its fourth overall pick to a quarterback-desperate team.
Since swinging and missing on Tim Couch back in 1999, Cleveland's been waiting for the perfect quarterback. If they keep sitting back, they could see another pass them by.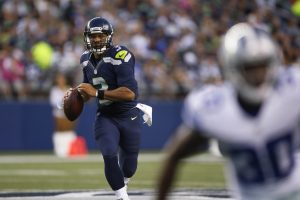 Missed Chances
While the Cleveland Browns have had bad luck with the quarterbacks they've drafted, they might have had even worse with the ones they've skipped over.
As win-starved as the franchise is, management seems hesitant to splash on a top-ranked quarterback. The results speak for themselves.
2012 saw Cleveland whiff on Weeden while the Seattle Seahawks stole Russell Wilson 53 picks later. They stumbled again in 2014: Drafting Manziel sounds bad in hindsight but sounds even worse knowing that Derek Carr and Jimmy Garoppolo were still on the board.
Even recent drafts highlight the flaws in Cleveland's sit-and-wait approach. In 2016, the team traded down from the number-two slot, unconvinced of Carson Wentz's talent. And just last year, with the entirety of the 2017 draft class at their fingertips, the Browns passed on Deshaun Watson, opting instead to spend a second-rounder on Kizer.
After winning one of their last 32 games, it'd be hard for the Cleveland Browns not to improve heading into the 2018 season. And with four high-profile quarterbacks available, it's time for management to take a chance.