The Gator baseball team turns up the offense Saturday at McKethan Stadium as Florida bounces back from a Friday night home loss to Arkansas with a 17-2 win Saturday over the Razorbacks.
Hot Bats
Jonathan India got the scoring started in the first with a grand slam shot out to right field. The bases were loaded due to back-to-back walks by Arkansas starter Isaiah Campbell and a Wil Dalton soft liner into center.  This was India's first career grand slam, who now has a career-best 10-game hitting streak. India is hitting .594 with five home runs during this streak.
India says his grand slam was a good guess on his part and he just happened to be looking right where the pitch was thrown.
https://twitter.com/rachelwest__/status/977583470179487745
Florida followed up their scoring in the first with two more runs in the second, thanks to a pair of singles and a throwing error by Arkansas.
The Gators added six more runs in the third on an Austin Langworthy single up the middle and a Keenan Bell double down the right field line. Deacon Liput followed that up with a two-run single to center. After Nelson Maldonado grounded into a fielder's choice, Dalton smacked a double down the third base line and ended up coming all the way around to score on an error by the left fielder.
Dalton rips a double down the LF line…it gets away from the fielder and he comes ALL THE WAY AROUND!!!

Bot 3 | #Gators 12, Arkansas 0 pic.twitter.com/RQC3vxewWA

— Gators Baseball (@GatorsBB) March 24, 2018
Runs on Runs
Florida poured it on again in the sixth, scoring five runs on four hits. After a pair of walks, Langworthy singled to short on a ball that went through India's legs as he was running. Bell followed with a line drive RBI single to center, and Nick Horvath batted another run in on a fielder's choice.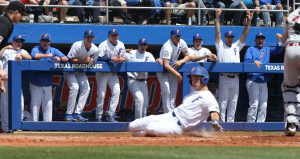 After the Razorbacks' third pitching change of the day, Liput roped an RBI single and Maldonado then launched a two-run double into the left field gap, bringing the total runs for the Gators to 17.
All but two of the Gator starters picked up a hit in Saturday's contest, for a total of 15. Liput led the offensive effort, going 4 for 5 with a walk and three RBI. Liput's hot hitting now has him 10 for 13 over the last three games.
India also had a stand out day at the plate, going 2 for 2 with two walks and four RBI.
Solid Pitching and Defense
The Gators were firing on all cylinders versus Arkansas. Not only was their offense nearly unstoppable, but their pitching and defense was just as strong, never allowing a solid Arkansas team to have any real chance in the game.
Florida starter Jackson Kowar threw six quality innings, surrendering just two runs. The only Razorback runs of the game came courtesy of the long ball in the fourth after the first Arkansas batter of the game to get a hit reached on a soft infield single just over the head of Kowar.
Kowar did give up four walks throughout the game but was able to work out of every jam he found himself in.  He says he was disappointed he struggled early on but says he's glad the offense had his back.
Kirby McMullen took over for Kowar in the seventh and continued to shut the Razorback offense down. Connor Churchill then took the mound to close the game out in the ninth.
The Gator pitching staff combined for eight strikeouts on the day.  The Florida defense didn't make many flashy plays behind the Gator pitchers, but they did what they needed to keep Arkansas off the board in all but one inning – something the Razorback defense was not able to do.  Arkansas committed two errors that directly led to three Gator runs and allowed Florida to stretch several innings and further add to the lead.
Gator coach Kevin O'Sullivan is proud of the way his team came out and performed after dropping a tough one to Arkansas the night before.
https://twitter.com/GatorsBB/status/977623860953497600
Next Up
The Gators (20-5, 3-2 SEC) will take on Arkansas (17-6, 4-1 SEC) in the rubber match tomorrow at 12 p.m. Tyler Dyson will get the ball for Florida and will face off against Arkansas' Kacey Murphy. Sunday's game will be broadcast on SEC Network.