The Los Angeles Chargers made yet another free agency splash at offensive line for the second straight offseason.
The Chargers locked up one of the NFL's best centers last week in the form of three-time Pro Bowl selection, and former Gator, Mike Pouncey.
We've agreed to terms on a two-year deal with Center Mike Pouncey. pic.twitter.com/LhaJTIusGW

— Los Angeles Chargers (@Chargers) March 19, 2018
Coach's Thoughts
The Miami Dolphins released Pouncey after talks over restructuring his contract broke down. The eighth-year veteran immediately had a long line of suitors after splitting with the team that drafted him No. 15 overall in 2011.
According to head coach Anthony Lynn, the Chargers did not see an opportunity like this coming.
"When he became available, we jumped right on it," Lynn said.
What did the Bolts see in Mike Pouncey? Offensive Coordinator Ken Whisenhunt goes in the film room to break it down. pic.twitter.com/zhnYRdtDgd

— Los Angeles Chargers (@Chargers) March 21, 2018
Lynn said he, Pouncey and other coaches connected over dinner when Pouncey visited Los Angeles.
"He wants to be on a team that has a chance," Lynn said. "I like our team, I like our chances. And we'll see what happens."
Pouncey's Reasoning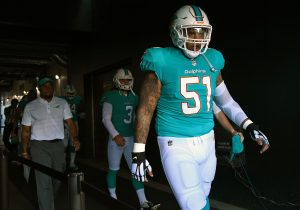 Pouncey said the Chargers moved to the top of his list after his agent contacted him saying that Los Angeles reached out. He said he chose the Chargers over an estimated five to seven other teams.
"I felt like I could be a piece that fits in really well to help this offensive line be even better than it was last year," Pouncey said. "I'm just excited to be here."
A key factor in Pouncey's decision was the presence of quarterback Philip Rivers. He praised the 14-year NFL veteran for his work ethic, game approach and his competitive nature.
"I enjoyed my career there for seven years with the Miami Dolphins, but to be able to play with an elite guy like this and a Hall of Fame quarterback is something I always dreamed of in my life," he said.
Anthony Lynn is also a big fan of Rivers. A man who played with the likes of Steve Young and John Elway, Lynn said this is the first time as a coach that he's a quarterback as fiery as Rivers.
Lynn commended Rivers for the way he came into and finished the 2017-2018 season for the Chargers along with expressing his love for Rivers's preparation, leadership and ability to still play at a high level.
"I can't wait to bring my toughness, my leadership, to this offensive line."
– Mike Pouncey pic.twitter.com/AUnwCcnZ93

— Los Angeles Chargers (@Chargers) March 20, 2018
So far, both parties seem excited and happy about the deal. The 2018 season will prove whether it was the right move for them.