There's never been a shortage of talent on the Florida baseball team. But, one former Gators' name is now on a big league roster. Bobby Poyner, who pitched at the McKethan Stadium from 2012-2015, is a new member of the Boston Red Sox.
Bobby Poyner Before the Pros
Poyner was not one of Florida's stars during his time in Gainesville. The pitcher made only 89 career appearances. In an even more underwhelming stat, he only made 15 starts on the mound. Still, Poyner was a fourteenth round pick in the 2015 MLB Draft, taken by the Red Sox. But, in a business of roster cuts, fourteenth rounders have slim chances to make official rosters. And a three-year turnaround for a spot with a consistent World Series contender is even harder.
From 2015-2017, Poyner worked his way through single-A play. A few slumps along the way dotted his career, but overall, the effort showed. In the middle of 2017, the pitcher was made it to Double-A as a Portland Sea Dog. In the Grapefruit League, Poyner posted a 0.96 ERA.
Red Sox Opening Day Roster
When Bobby Poyner received an invitation to big league camp, he made it count. He allowed four baserunners in over nine innings, which impressed the Red Sox. Manager Alex Cora called Poyner to give him a spot on the 25-man Opening Day roster.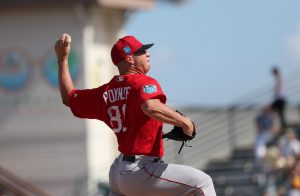 He does not have a spot on the 40-man roster. But, Bobby Poyner clearly has a knack for making the most out of situations. Today, Boston will travel to Tampa Bay for the Rays' home opener.
Fast Facts
There is not much to say yet about Bobby Poyner as a professional baseball player. But, Gator fans will have a treat if they decide to watch the Red Sox on Opening Day. Poyner is one of three Gators (along with Brian Johnson and Austin Maddox) on the Red Sox roster.