In its first non-SEC weekend match up in three weeks, the Gator softball team will be taking on Hampton and Jacksonville in two doubleheaders on Friday and Saturday.
Florida is entering the weekend with a 28-4 overall record after splitting their doubleheader against FIU on Wednesday.
Keys to the Weekend
Florida's pitching has been top-tier most of the season, but there have been a couple of slip-ups from the staff. The Gators will need the best from their pitchers throughout the weekend in order to take down Hampton and Jacksonville. Although both opponents appear to be inferior teams, Game 2 of the FIU doubleheader showed what can happen when the Gators aren't playing at their best.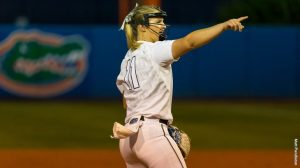 Luckily, the Gator pitching staff has been lights out more often than not this season. They have thrown a program record seven no-hitters — six individual and one combined.
Kelly Barnhill and Aleshia Ocasio continued to add to their list of accomplishments this week. Barnhill picked up her eighth career SEC Pitcher of the Week award and Ocasio earned the second complete game no-hitter of her career against FIU.
After being shut out by FIU in their last game, Florida will be hoping to get their bats going again this weekend. The team will look to lead-off batter Amanda Lorenz for a jump start.
Lorenz has been a huge part of the Gator's offense so far this year. She has reached base safely in every game this season, as well as in 156 of 163 games played throughout her career.
The Opponents
Florida has had nothing but success against this weekend's opponents. The Gators hold a 21-0 combined record against Hampton (2-0) and Jacksonville (19-0).
The Hampton Pirates are entering the weekend with a 13-14 record. They are coming off taking two of three against Howard last weekend. However, the Pirates have yet to win a game this season when playing on the road.
The Jacksonville Dolphins will be bringing their 19-13 overall record into the weekend's match up. Jacksonville is currently on a five-game winning streak, having swept North Florida in a three-game series last weekend.
Due to weather, Friday's game times have been moved up, and the Gators will now take on Hampton at 10 a.m. and Jacksonville at 12 p.m. On Saturday, Florida will face Hampton at 1 p.m and Jacksonville at 3:30 p.m. All four games will be broadcast on SEC Network +.
https://twitter.com/GatorsSB/status/979415509635620864