It's been three seasons since the New Orleans Pelicans have made the playoffs. It's been a decade since they've advanced past the first round. They've lost four of their last five and are continuing to cope with the absence of four-time All-Star DeMarcus Cousins.
But with four games remaining in the regular season, they control their own destiny.
Sitting on the playoff bubble with a 44-34 record, the Pelicans are a game ahead of the ninth-placed Denver Nuggets. According to ESPN's Basketball Power Index playoff odds, they own a 62.2 percent chance of breaking their postseason drought.
However, if the current standings hold, most pundits would give them a far smaller chance of succeeding against their first-round partners.
The NBA-leading Houston Rockets dominated the Pelicans in their four regular-season meetings, winning three-of-four games by an average margin of 12. They boast the only 30-points-per-night scorer in the league in James Harden, a top-two shot blocker in Clint Capela and the most efficient offense in the Association.
"We feel like we should beat everybody," New Orleans center-forward Anthony Davis said, "but we've gotta come in with the mindset of … playing defense and then letting that lead to offense."
If the Pelicans have any hope of trouncing the Rockets, they'll have to take that advice to heart. And even if they do, things aren't looking good.
At the rim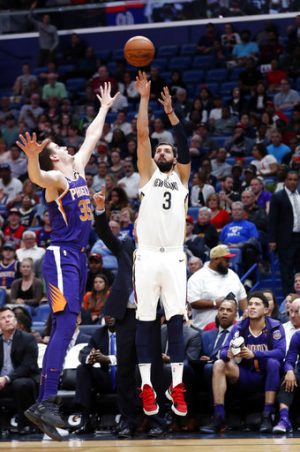 Despite losing Cousins for the season on January 26, the Pelicans have marginally improved in their own half.
Granted, it would've been hard not to, considering how poorly their defense was playing.
Although they're still allowing over 110 points per game, New Orleans has shored up their shooting defense in the 30 games they've played since Cousins went down, allowing opponents to convert on 1.6 percent fewer field goal attempts. They've also boosted their average defensive rebound (+2.2), steal (+0.6) and block (+1.9) rates, placing among the top eight teams in each category in that span.
Part of it can be chalked up to Davis being Davis: The sixth-year star paces the league in blocks per game (2.5) while ranking fifth in total rebounds (11.1). However, deadline pickup Nikola Mirotic has helped pick up some of the slack in the frontcourt. Since being acquired from the Chicago Bulls, the 6-foot-10 power forward has registered career-high averages in defensive boards (6.2), blocks (0.9) and steals (0.9).
Stats Do Not Lie
The advanced stats, though, paint a different picture.
Among healthy, rostered players with over 500 minutes of playing time, Davis easily leads his team in defensive win shares (4.5). Guard Jrue Holiday places second with 2.6.
Furthermore, six of the team's eight qualified players have posted negative defensive box plus/minus numbers, a stat that illustrates the defensive points per 100 possessions an athlete contributed over a league-average player.
That discrepancy between Davis and his teammates stretches over onto offense. You'd have to combine Holiday, E'Twaun Moore, Darius Miller and Rajon Rondo's offensive win shares to pass Davis'.
And according to Basketball-Reference, the joint efforts of his seven main teammates fall shockingly short. Davis owns a Value Over Replacement Player of 4.7, tenth-highest in the NBA. Holiday, Moore, Miller, Rondo, Mirotic, Cheick Diallo and Ian Clark combined manage a 3.3.