Last night the Cleveland Cavaliers dominated against the Indiana Pacers in Game 2 of the Eastern Conference playoffs, evening the series. The Cavaliers won 100-97 after the Pacers Shooting Guard, Victor Oladipo, missed a potential three-point shot to tie the game. After being smoked by the Pacers in the first game,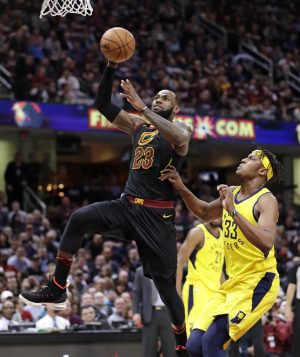 the Cavs were not letting it happen again. Cleveland played to its strengths to guarantee a much-needed win, with LeBron James leading the team.
James Leads the Cavaliers
LeBron James was on fire during last night's game, scoring the first 13 points of the game for either team. He scored the first 16 for the Cavs, hitting seven of his first eight field goal attempts, which opened the lead for his team. By the end of the first quarter, James had already scored 20 points.
James expresses that he never came into the game saying he was going to be assertive, but that Coach Tryonne Lue said so. James was simply focused on playing his game. He said he wanted to make a remarkable game early on and having a really good rhythm would help him do so. Well, James certainly did it all.
LeBron James finished against the Pacers with 46 points, marking his 20th career postseason game with at least 40. This tied him with Jerry West for the second-most ever, right behind Michael Jordan.
LeBron James fuels the @cavs Game 2 win with 46 PTS, 12 REB, 5 AST and Cleveland evens the series at 1! #WhateverItTakes #NBAPlayoffs pic.twitter.com/BkycAu8joP

— NBA (@NBA) April 19, 2018
Pacers Fall Short
After a tough game of trying to keep up with the cavs, the Indiana Pacers were unable to pull through. Shooting Guard, Victor Oladipo, was close to tying the game for the Pacers in the last 27 seconds, but he unfortunately fell short. He missed a potential three-pointer, allowing the Cavs to keep their lead.
Although the Pacers were not able to win this game of the series, Oladipo, as well as the rest of the team are coming off still feeling confident. No one necessarily has an advantage; however, the Pacers must play the way they have played all season if they want to take the lead in this series.
The Pacers can be underestimated since they do not have that one player that stands out. That doesn't stop them though. Last game Lance Stephenson, normally a bench player, stepped up to the plate when Oladipo got into foul trouble. He may have only had 10 points, but after being thrown down by LeBron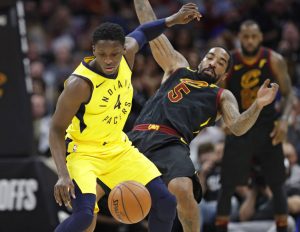 James, he continued to fight and work hard through the duration of the game.
Game 3
The Pacers will have a home advantage as the Cavaliers head to Indiana for Game 3 of the series. The game will take place tomorrow night at Bankers Life Fieldhouse. Tip-ff will begin at 7:00 pm.