After falling behind 2-0 in the first round of the NBA Playoffs, the Milwaukee Bucks have battled back to even up the series with the Boston Celtics. During Game 4 on Sunday, the Bucks recovered from surrendering a 20-point lead and made the winning basket to put them ahead 104-102 in the closing seconds.
Antetokounmpo Comes Up Big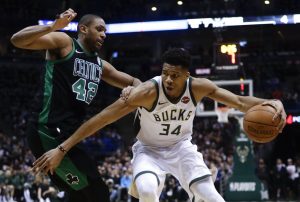 Milwaukee's All-Star forward Giannis Antetokounmpo shined throughout the game, scoring 27 points with seven rebounds and five assists. But no basket of his was more important than his tip-in with five seconds remaining to give his team the lead.
With time running out on the clock, Milwaukee's Malcolm Brogdon went in for a layup but missed. That's when Antetokounmpo jumped up and was able to reach his arm around Boston's Jayson Tatum to put the ball back through the net.
After taking a two-point lead, the Bucks had to come up with one stop on the other end of the court. The Celtics inbounded the ball and it ended up in the hands of Marcus Morris, who shot a 14-foot fadeaway but missed it at the buzzer. Milwaukee's Kris Middleton, who had 23 points of his own in the game, managed to get his hands in Morris' face to help prevent the basket.
Middleton says he was just trying to challenge a shot by a player who is known to make tough shots.
All About Trust
Antetokounmpo and the rest of the Bucks have a special kind of trust that they credit their success toward.
Whether it's trusting each other to find them the ball or having faith that one guy will make the next basket even if he has missed his last couple shots, there is never a doubt that a teammate will step up in a critical moment.
Antetokounmpo describes how the trust of his teammates helped him make the game-winning basket in Sunday's game.
Up Next
With the series tied at 2-2, a crucial Game 5 will take place on Tuesday at 7 p.m. in Boston. The winner of that game will look to clinch the series in Game 6 on Thursday. If they do, they advance to the second round to take on the winner of the series between the Philadelphia 76ers and the Miami Heat.