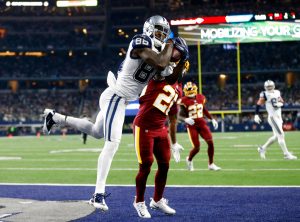 Dallas Cowboys Owner Jerry Jones assured that Dez Bryant will not be returning to the Cowboys next season. They didn't even give Bryant an option of returning at a reduced rate.
According to USA Today, the Cowboy decided to part ways with Bryant due to his 2017 season and his friction with other teammates. In 2017, Bryant had 838 receiving yards and 6 touchdowns.
The Cowboys released Bryant on April 13. Bryant had been slated to make $12.5 million. Therefore, the Cowboys saved  $8.5 million against the cap by releasing him.
Jones has no interest in bringing Bryant back. 
Heading into the NFL draft, Jones believes the team won't be able to find anyone to replace Dez.
However, according to ESPN, Jones said the Cowboys will be looking for a wide receiver in the draft that can help out right away. But they aren't committing to selecting one in the first or second round.
The NFL Draft
According to NFL Network Insider Ian Rapoport, Bryant is not expected to sign until after the NFL Draft. Teams are waiting to sign any veterans until after the draft. They are waiting to see what happens during the draft until they spend more money on an aging wide receiver rather than a rookie.
Bryant says he hopes to remain in the NFC East though. He wants the opportunity to face the Cowboys twice during the 2018 season.
The Baltimore Ravens
The Baltimore Ravens looked hopeful for Bryant. However, the team decided to sign restricted free agent Willie Snead away from New Orleans instead. Apparently, the Ravens offered Bryant a multi-year deal and Bryant turned it down. Bryant only wanted a one-year deal. Baltimore wanted him because could only afford to fit a multi-year deal under their cap.