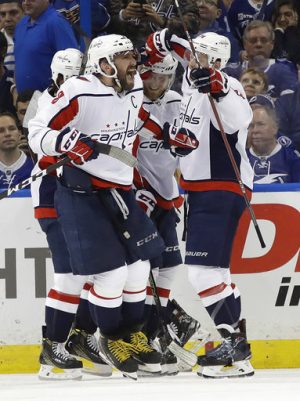 Dropping the first two games of the Eastern Conference Final at home is not how the Tampa Bay Lightning hoped to start the series. They now have to travel to Washington down 2-0 with the Capitals playing some of their best hockey.
A Tale of Two Series
Throughout the regular season, the Lightning had the best record in the Eastern Conference. They also easily made it past their previous two playoff opponents, beating both the New Jersey Devils and the Boston Bruins 4-1. But Tampa has not been able to find this kind of success against the Capitals so far—almost nothing has gone right.
Lightning head coach Jon Cooper has noted his team's lack of ability to make plays. He says the way they've played in the Conference Finals is not the way they have played at all other points throughout the season. Cooper knows the only way his team will be able to bounce back is if they get back to the type of play they have displayed in all but the first two games of this series.
Success on the Road
Teams battle throughout the regular season to earn the right to have the home-ice advantage once they make it to the playoffs. But home advantage apparently doesn't mean much to Washington. They have completely dominated Tampa while on the road and have given themselves that much of a greater chance to win the series.
Washington center Lars Eller believes the added discipline that comes with being on the road has been very beneficial for the Capitals and has allowed them to be more focused.
Now the Lightning will have to flip the script and pick up a couple of wins on the road if they want to even up the series and give themselves a better chance at advancing. Tampa is 3-1 on the road during the playoffs this year.
Not Over Yet
Despite being down 2-0, it's still a long series and the Lightning have a chance to recover from their early deficit.
Lightning center Steven Stamkos says there's nothing they can do about the first two games now and they just need to find a way to turn it around.
Washington left wing Alex Ovechkin is excited about his team's series lead but knows they still have a long way to go before clinching a spot in the Stanley Cup Finals. He says the ability and experience of Tampa's players still pose a serious threat to them.
Before Sunday night, the Lightning had won Game 2 of a series five consecutive times after losing Game 1. They are 4-2 in six previous series in which they lost Game 1.
Game 3 will take place Tuesday night at 8 p.m. and the game will be broadcast on NBCSN.