Steven Stamkos was two games away from raising it. Alex Ovechkin has yet to even play for it.
Wednesday night, one of these team captains will keep their Stanley Cup hopes alive.
A back-and-forth NHL Eastern Conference Final will draw to a close this evening when the Tampa Bay Lightning welcome the Washington Capitals to the Amalie Arena for a decisive game seven. With the upstart Vegas Golden Knights waiting in the offing, earning the Prince of Wales Trophy is hardly the end of the line.
With so little between these two clubs on the ice, both will need to play like it is.
"It's going to be hard, it's going to be interesting, it's going to be fun," Ovechkin told the Washington Post. "You play hockey because of these moments. One game. That's it. Everything on the line."
Inseparable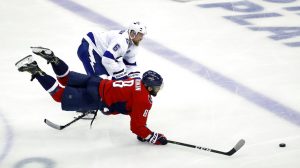 To this point of the postseason, the Capitals have been the statistically superior team: Despite playing two more contests than the Bolts, head coach Barry Trotz's team has scored more (3.44 per game to 3.13), kept more shots out of their net (2.61 goals per game against 2.75) and performed marginally better in both phases of special teams play.
But despite owning a goal differential of minus-three this series, Tampa has played Washington to a standstill. Part of the Lightning's success can be attributed to their depth. Bottom-six forwards and defensemen have accounted for nearly 40 percent of the team's point production this series.
However, Washington's offense has been operating at a similar level: The Capitals' depth skaters have produced roughly 50 percent of the team's point output. Those parallels extend back to the start of the regular season. According to Corsica Hockey's Player Ratings, both clubs' average even-strength skater scores are within 0.6 points of each other.
Vegas oddsmakers have the Lightning as -160 favorites to clinch game seven. In a series where the home team has yet to win a single game, it's going to be far, far closer than the bookies suggest.