The Boston Celtics host the Cleveland Cavaliers in Game 5 of the Eastern Conference Finals on Wednesday. The series is currently tied 2-2.
Game Four Recap
After a dominant first quarter that saw the Cavaliers go up 34-18, Boston was not able to come back even after outscoring the Cavaliers in the remaining quarters. LeBron James was the difference in the 111-102 final score scoring 44 points. The Cavaliers had complete control at the half scoring 34 points in both quarters, almost matching Boston's 35 points in the second quarter. Boston played better defense in the second half, but the offense was not on point, shooting a 41 field goal percentage compared to Cleveland's 50 percent.
The Cavaliers and LeBron James showed no mercy against the Celtics in both games at home and will carry that mindset to TD Garden this Wednesday.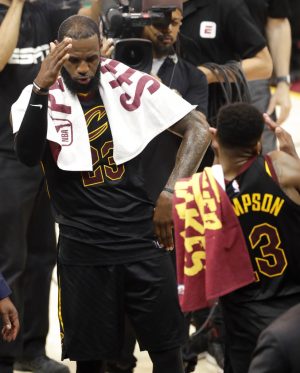 Game Five Keys
Keys for the Celtics
Use your crowd! – The Celtics are known for their home strength and consistency. The fans are able to bully players from other teams with their loudness. TD Garden has a very hostile atmosphere. This will once again give Cleveland a hard time. Expect an electric Boston home crowd.
Keep the tempo up from the beginning –  Boston played catch-up all of game 4. They looked frustrated and uncomfortable all throughout the game. This is mostly due to the fact that they were able to score 35 points in the second quarter, but made no difference because the Cleveland almost matched that up with 34. This completely killed Boston's morale and it was shown by the staleness shown in the second half. If Boston is able to pull away early or even keep it close before the first half is over, then the second half will be a different story this time.
Keys for the Cavaliers
Continue the winning-streak – The crowd in Boston will be loud and the Celtics will be looking for revenge. Cleveland needs to stay composed especially after winning the last two games. LeBron is keen on keeping the mindset shown at home in games 3 and 4 to snatch a third win, this time away from home.
LeBron's Entourage – LeBron has a group of players around him that understand that he is the key to the finals. The Cavaliers need to play for LeBron and when the play is not directed towards him they need to make sure the ball goes in the net to aid him. Kyle Korver has shown support these last 2 games coming off the bench and summing up 14 points each game. Defensive organization will be key as well.