It took the Tampa Bay Rays 13 innings to eke out a decision on Memorial Day. In tonight's rematch against the Oakland Athletics (28-26), they'll be hoping for something a little quicker.
Following a 1-0 win yesterday, the Rays (26-26) are set to continue their midweek series against the A's. Sitting two games ahead of the Toronto Blue Jays for third place in the AL East, manager Kevin Cash's men will be looking to pull their club back above .500 for the first time since May 20.
If the evening's starters stick to form, Tampa should accomplish that.
Back to Basics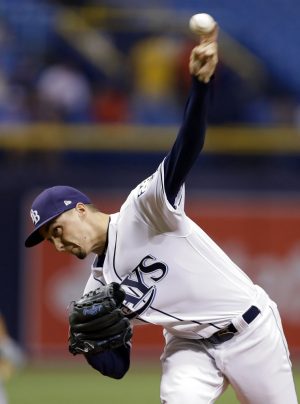 The Rays' "bullpenning" experiments have made headlines this season, and for good reason. Nobody in the game had thought to do that before.
Cash has sent a reliever to the mound to throw the opening inning in five of his team's last ten games. The ploy typically works by shielding the Rays' more vulnerable starters: The fewer times an opposing hitter sees the same pitcher in game, the less his chances are of recording a hit.
Blake Snell doesn't need that protection.
Tampa's 25-year old lefty has been lights out this year. Over 11 starts, Snell has averaged 9.6 strikeouts every nine innings, hurling his way to six wins and a 2.78 ERA.
He also has a record — albeit small — of dominating the A's. In 19 at-bats against current Oakland players, Snell has conceded three hits, good for a batting average of .158 against.
His opposite on the bump tonight, however, hasn't met the same success.
Since his call-up from Triple-A, right-hander Daniel Gossett has struggled to replicate his minor-league results. The 25-year old has lasted longer than four frames just once in three starts, surrendering 10 earned runs over 14.1 innings pitched.
Against the MLB's third-hottest hitting team, the embattled pitcher might have to wait until his next start to get over the hump.