With the NBA season now over and LeBron James able to opt out of his contract with the Cleveland Cavaliers, all the talk has now shifted to him and where he'll land as a free agent.
If James chooses to leave Cleveland, it's looking like Houston and Philadelphia are a few of the primary candidates for landing spots.
No matter where he ends up, James says he can contribute a lot to any team and is still after another championship.
Cleveland
James has made it clear in the past that he wants to finish his career in Cleveland. But after the struggles the team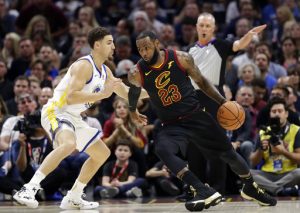 faced this season, there's a chance that might've changed.
The problem with the Cavaliers is that they are now starting to pay for going all out and acquiring a strong supporting cast for James over the last couple of years. The team opted for signing big-time players to costly deals and trading away draft picks.
It doesn't help that there is also little trust between James and Cleveland's front office.
One thing the Cavs do have going for them, though, is they can offer James up to a five-year deal for more than $200 million — more money and years than any other team.
Houston
If James wants to take down the Golden State Warriors, his best option might be to go to the Houston Rockets.
Houston took Golden State all the way to the end of the Western Conference Finals this past season. And James would be joining and already very talented team, led by James Harden and Chris Paul.
If this was the route James were to choose, it would most likely be necessary for his to opt in to his contract with Cleveland and set up a trade to Houston since the Rockets are already too close to the salary cap to sign James outright.
Philadelphia
Going to the 76ers would mean joining the up-and-coming team that's currently led by Ben Simmons and Joel Embiid.
Not only are James and Simmons represented by the same agent, but James is also Simmons' mentor. Because of this, the two should have an easy time playing together.
Embiid and Simmons have both expressed interest in James coming to play with them in Philadelphia.
Trust The Process!!!! Find a new slant @KingJames

— Joel Embiid (@JoelEmbiid) June 9, 2018
The coming weeks should be interesting as the basketball world awaits James' decision. A lot still remains up in the air, but one thing is for sure — all eyes will be on LeBron James.