Will Muschamp had been there before. Over the last three years, South Carolina's head coach had been scheduled to speak on the last day of the Southeastern Conference's Media Days.
He didn't care that he was, once again, the last head coach to speak. After striding to the podium, the 21-year conference veteran turned in one of the more memorable press conferences of this year's event.
"(Missouri head coach) Barry Odom said to you guys yesterday you're all in the fourth quarter," Muschamp cracked. "I guess we're in overtime today. You all look rough."
Will Muschamp #HadGas pic.twitter.com/uzowEawrDL

— SEC Network (@SECNetwork) July 19, 2018
Between jokes and banter, the Gamecocks' third-year coach offered some insight onto the state of his team. Here are some of Muschamp's more memorable comments.
The A&M drought
Throughout the program's 126-year history, South Carolina has managed a win against every SEC program.
That is, until Texas A&M came about.
Since joining the conference in the 2012-13 season, the Aggies have bested the Gamecocks in each of their four previous meetings, beating South Carolina by an average margin of 12.25 points per game.
When asked about his team's struggles against Texas A&M, Muschamp wasn't worried. Despite the Aggies' hiring of Jimbo Fisher — a "very good friend" of Muschamp's from their coaching days at LSU — he said he wouldn't ascribe the matchup any special importance in training.
"We don't focus on any opponents more than any other opponents," Muschamp said. "That's not coach speak, that's real. …
"I spend the same amount of time at the office preparing for an opponent no matter who it is. We have great respect for Texas A&M, and we need to do a better job in the rivalry."
Defensive improvement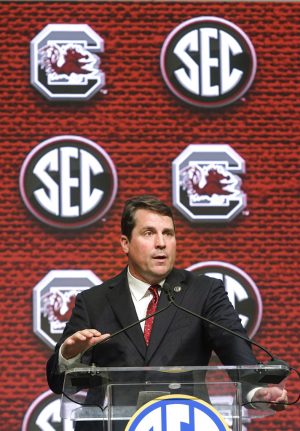 Although they struggled on the offensive side of the ball, Muschamp's teams at the University of Florida were renowned for their defensive grit. Three years into his tenure, South Carolina has yet to replicate that success.
Last season, the Gamecocks placed seventh in the SEC and 44th nationally in yards allowed per game. They also ranked fifth in the conference in scoring defense, conceding 20.7 points per contest.
While those numbers seem fair on paper, Muschamp believes there's room for improvement. He identified the four-man pass rush as his greatest area of concern, and is also seeking continued development from his linebackers as run-stoppers. Following the graduation of leading tackler Skai Moore, he called on Eldridge Thompson and Sherrod Greene to fill the void.
"We'll be better than we've been," Muschamp said. "We didn't allow a lot of explosive plays in the secondary. We have to continue to do that, and we have to be very opportunistic defensively. …
"To me, the biggest thing is we got to be more effective rushing the pass with four guys."
The Saban tree
Alabama's Nick Saban has one of the more prolific coaching trees of any active coach. By Sports Illustrated's count, six of his former assistants are currently head coaches at Division I teams. Five of them are at Power 5 programs, while four — Muschamp, Fisher, Tennessee's Jeremy Pruitt and Georgia's Kirby Smart — are in the SEC alone.
Working under Saban, Muschamp said, offers "a total education in the game of football," from recruiting to gameplanning. He considers each of Saban's protégé's a quality coach, underlining Saban's influence on the league.
"You are what your record is," Muschamp said. "Nick is the best coach in college football because of the accomplishments he's had. He's done an outstanding job running his program from a scheme standpoint, from a recruiting standpoint, from a development standpoint.
"You name it, he does an outstanding job."