"We have to be a lot better if we wanna be a good football team."
The words of head Coach Dan Mullen on Monday after their win Saturday against Charleston Southern and heading into the Gators first SEC matchup this season.
Florida is coming off of a big 53-6 win against Charleston Southern last weekend as they got to showcase their team to the 81,164 people in attendance on Saturday. The Gators impressed both the fans and Mullen with their two blocked kicks, a familiar looking jump pass and 444 yards of total offense in their game Saturday. Mullen hopes his team's first win will be a positive experience for his team to learn from.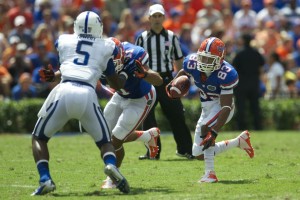 Nation leading Win Streak
The anticipation to make the 31-game win streak a 32-game win streak continues. Dating the last time the Gators lost to the Wildcats on Nov. 15, 1986. Although Mullen says he obviously doesn't want to be the one to stop this streak, it is not something that they will focus on within their locker room.
Wildcats Will to Win
While Kentucky did not win by 47 points on Saturday, the Wildcats were still able to pull out a 35-20 win against Central Michigan in their first game of the season. Arguably Saturday's game was a nail-bitter for some Wildcat fans, specifically in the second quarter when Central Michigan was up 17-7 with their only points on the board coming from Kentucky's two interceptions and two fumbles. Mullen says that Kentucky's will to win impressed him in their composure to finish the game.
SEC Showdown
This Saturday Mullen says that he hopes to see a good fan turnout once again in Gainesville and that they need this conference win in order to enter the rest of the season with confidence.
Mullen has been coaching in the SEC for 14 years and says that he knows being in this league means you have to "buckle-up." This Saturday the Gators will see if they tightened their seat-belts enough to take down their first SEC opponent in Gainesville with kickoff set for 7:30 p.m.