Just five days before the start of the regular NFL season, linebacker Khalil Mack agreed to a six-year, $141 million, $90 million guaranteed contract with the Chicago Bears. Mack's contract set a record for defensive players.
Ready to Roll
Mack held out playing for the last eight months, missing out on the Oakland Raiders' offseason program and preseason. Monday at  Halas Hall was the first time he's practiced since the end of the 2017 season. But despite the layoff, Mack said he's confident he'll be able to take on the Packers in a week.
"I want to be great. I want to be known as the best to play the game. And regardless of how you look at it, that's what it's all about to me," said Mack, "I'm going to go out and work hard and make sure I put my step on it."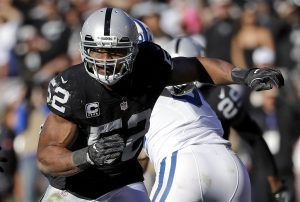 Jon Gruden and the Raiders Are Sorry to See Mack Go
While the Bears were willing to give Mack an contract he desire, the Raiders were not.
Head coach Jon Gruden said the decision for Mack to head to Chicago was made as an organization.
"It wasn't my goal to trade Khalil when we got here. One of the reasons I'm here is because of him," said Gruden, "Unfortunatley we had a standoff with the contract and we could not come to terms. The Bears made us an offer, two first-round draft choices and here we are today."
Raider Nation the love you've shown my family and I for the past 4 years has been amazing we loved every minute of it! Unfortunately it has come to an end but I will cherish my time in Oakland forever and will forever have love for the Nation!

— Khalil Mack (@52Mack_) September 3, 2018
"I don't believe we were anywhere close to where the Bears were," Gruden said. "The Bears made us an offer that we thought was really unique and it was very, very tough to say goodbye to a great player."
Bears Welcome Mac
Head Coach of the Chicago Bears, Matt Nagy, says his first impressions of Mack are "pretty good." Nagy says you can sense the team is excited for Mack to be there.
"Khalil is a true professional. The last 24 hours, seeing him in here, diving into the playbook, how hungry he is, how motivated he is," said Nagy.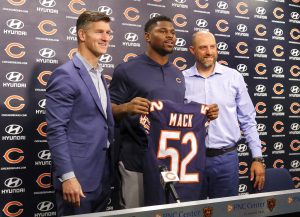 Nagy said Mack is doing a really good job adjusting to a new team and process.
The Bears will take on the Green Bay Packers on Sunday Sept. 9.