What many had already assumed is finally official: Nick Saban has named Tua Tagovailoa the Crimson Tide's starting quarterback.
The Seasoned Starter
Alabama junior quarterback Jalen Hurts, is not your average second string QB. Hurts has a 26-2 record as a starter and led the Crimson Tide to back-to-back National Championship appearances.  However,  in the 2017 National Championship game Hurts was benched at halftime, after a poor performance. Then came in true freshman Tua Tagovailoa at the half.
An Unlikely Hero
The Bulldogs had a 13-0 lead against the Tide heading into the half and Nick Saban certainly wasn't happy about it. Looking to change things up, he tossed a true freshman into the spotlight with nothing to lose. And lose, he didn't.
Tua was 14/24 in that championship battle with three touchdowns. The Tide, now led by Tua, was brought back from the dead in the second half. By the end of the fourth quarter, the game was tied at 20-20. In overtime, Georgia struck first and scored a 51-yard field goal. With all the pressure on Alabama, it was make-or-break for the freshman QB. Alabama's first offensive play in overtime didn't look promising as Tua was sacked for a 16-yard loss. With a nation doubting him and all the pressure weighing heavy on his shoulders, Tua stepped back and threw the most significant pass of his budding career: a game-winning, 41-yard touchdown pass soared in the air and fell into the arms of DeVonta Smith.
Tua did the unthinkable. He came off of the bench in the biggest game of his life, and won Alabama another National Championship.
Two Elites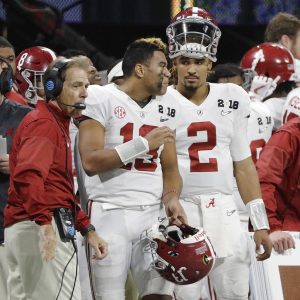 Both Hurts and Tagovailoa are more than qualified to be the starting quarterback at Alabama, however, Saban chose Tagovailoa. The subject of starting quarterback seemed to be a sensitive one as Saban got ornery with an ESPN reporter following her postgame question about his decisions in regards to the two QB's in the week 1 game against Louisville. Despite that, on Monday Saban made the announcement that Tua would be the starter for week 2 before the media could even pose the question.
"I think everybody knows that Tua's going to start this game and we're going to use Jalen's skill-set in the future to help however we feel that he can benefit the team," Saban said.
ESPN Analyst Kirk Herbstreit seemed to think the decision by Saban was, indeed, a good one.
When Tua is on the field for Alabama, @KirkHerbstreit says the nation should be on notice. pic.twitter.com/5QlTAMqXln

— College GameDay (@CollegeGameDay) August 28, 2018
Nonetheless, some college football fans seem to think the decision is, maybe, a little irrational.
Jalen Hurts is a prime example of how you can do SO MUCH for people and the moment things don't go in their favor they throw you away.

— Lamont Crittendon ☔️ (@BigHitCritt) September 2, 2018
The Decision
Ultimately, the decision to pick Tua was simply because Saban likes to win and plans to keep it that way.
"We make all of our decisions here based on winning," Saban said. "Whoever we feel will give us the best opportunity to go out there and win, that's who we're going to play."
Many weren't surprised by the decision to start Tagovailoa, nor were they surprised that Hurts would still play an important role on the roster. Hurts is more seasoned and Tua has the potential to make mistakes that he wouldn't, but Tua is also capable of making plays that Hurts can't.
Yes, right now Tua is the starter. But what we know is that Saban is not afraid to replace an elite starter with an elite second string at any given moment.
What's to Come
The future for Hurts at Alabama is up in the air right now. There is tons of speculation regarding him transferring now that Tua has been named the starter. Although Saban would like to believe that its over, it seems that this quarterback clash at Alabama is really just getting started.
Alabama will host Arkansas State in its home opener on Saturday at 3:30 p.m. ET.