Behind Rachael Kramer and Holly Carlton, the Florida Gators volleyball team are working through their growing pains to meet their potential.
Roster Turnover
On a team with six true freshmen, two sophomores and three redshirt sophomores, learning experiences are to be expected.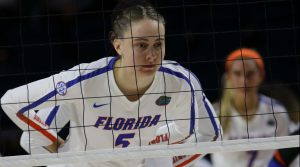 The team has nine returning players from the 2017 team that went 30-2. With 13 new faces on the team, the Gators already have more losses through eight games than that 2017 team. Roster turnover, inexperienced players and a tough early schedule have led to some early season struggles. That being said, the team is pushing through to be the best they can be. In advance of the Gators matchup against the Florida State Seminoles, Kramer said most of her teammates have never even played against FSU.
Kramer and Carlton
Kramer and Carlton have one thing in common: they are listed as the Gators' two tallest players at 6'8″ and 6'7″. Other than that, the two players are in different positions in their volleyball careers. Kramer is a veteran for Florida. She's in her junior year and is a leader on the floor. Still, she's working on her game.
For Carlton, she's not new to College Volleyball, but she is new to Gainesville. The redshirt sophomore transferred this offseason to Florida from the University of North Carolina. Carlton said she's adjusting to her new team and school.
For Kramer, she said she's enjoying having Carlton as a teammate.
Tough Schedule
On top of all new players, the Gators have had a tough schedule to start this season.  They opened the season playing No. 2 Nebraska, No. 3 Texas and No. 7 Southern California. They dropped two of those three to Texas and USC. At the Lumberjack Invitational, the team played two matches in one day for the first time this season, dropping the later match to unranked Northern Arizona. Carlton said the tough schedule and how the team is growing.
After the road matchup with Florida State on Sept. 12, the team will get another great chance to prove themselves at the Honda of Gainesville Invitational, where they will play Jacksonville and FIU on Sept. 14 and Army on Sept. 15.