For the third straight season, the Boston Red Sox will play postseason baseball. Last night, the Red Sox clinched a playoff spot this season with a 7-2 win over the Toronto Blue Jays. Boston improved to 99-46 on the year, becoming the first team to clinch a postseason berth this season. Their lead in the AL East now stands at nine games over the New York Yankees. Manager Alex Cora said he knows his team has put themselves in a good spot.
"We're in great position to win the division and accomplish other things. I told them I'm very proud of them," Cora said.
CLINCHED.

Red Sox become the first team to lock in a spot for the 2018 postseason with a 7-2 win over Toronto. pic.twitter.com/fuJFIloCNK

— Bleacher Report MLB (@BR_MLB) September 12, 2018
Last Night
In the bottom of the seventh inning, Cora put his team in a great spot. Trailing, 2-1 in the bottom of the seventh, he called upon Brock Holt to pinch hit. With runners on the corners and two out, Holt delivered a three-run homer to give the Boston the lead. After the game, Cora discussed his decision to bring Holt off the bench.
Boston tacked on three more runs and held on to take care of the Blues Jays 7-2 to punch their ticket to the playoffs. After the game, Brock Holt said they know there is a lot more work to be done.
"It's special," Holt said. "Obviously, we know we have more work to do. But it's nice to know that we're in there and all the work we've put in this year has paid off and we've given ourselves a chance to be the last team standing."
Chris Sale Return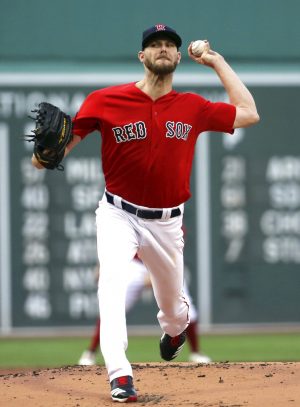 For the first time in almost a month Red Sox ace, Chris Sale took the mound. Sale was placed on the disabled list in mid-August with shoulder inflammation. Sale worked on a strict pitch count only going one inning. He pitched a scoreless first inning striking out two Toronto batters. Sale said afterward that everything felt fine.
"I felt really good. I was a little erratic obviously, which drove my pitch count up. That's why I didn't get to go out for my second or third inning," Sale said. "But I got some good work in and I'll move on from there."
The Red Sox are the third team in franchise history to make the playoffs three consecutive years. They take on the Blue Jays at 7:10 p.m. tonight.