The Mississippi State Bulldogs are just two games into their 2018 season and already showing their strength and dominance on the field. While they have yet to play an SEC team, they have crushed their last two opponents. Now, they are looking to go 3-0 this week as they face the Louisiana-Lafayette Ragin' Cajuns on Saturday, Sept. 15.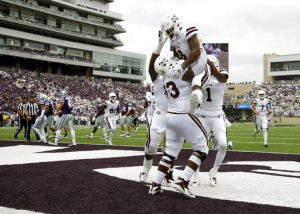 Bulldogs New Coach Working on QB
While former head coach Dan Mullen left the Bulldogs with one the of the best defensive lines in the country, new head coach Joe Moorhead has proven to be a great offensive coach. Throughout the last two games, Mississippi has looked as stellar as they were hyped to be. Last week, they were able to dominate Kansas State 94-16. Many fans were concerned about QB Nick Fitzgerald going into this season; last season, Fitzgerald regressed as a passer from the previous season. While his physique and skills are outstanding, his ability to throw deep is subpar. During last week's game, he completed 11 of 27 attempts for 154 yards.
Earlier this week, Fitzgerald spoke about the improvements he needs to make.
"I think I was making the right decisions, just not putting the ball where it needed it to be" (Nick Fitzgerald via MSU Football Twitter).
https://twitter.com/HailStateFB/status/1039669871053815808
However, this doesn't mean he hasn't improved. This was his first game after an injury during last season's bowl game. While his passing has not been great, he has shined in other aspects as a QB. And this is evident that Moorhead has been working with him to improve.
While Fitzgerald continues to improve, the Bulldogs have already proven that they do not need an effective passing attack to win games.
Game Details
The Mississippi State Bulldogs will host the Lousiana-Lafayette Ragin' Cajun at 7:30 p.m. EST on ESPN2.
https://twitter.com/HailStateFB/status/1040262861434576896