The Buccaneers were down 30-10 at halftime on Monday Night against the winless Steelers, but Tampa Bay did not give up in the second half. The Bucs were led by quarterback Ryan Fitzpatrick who was able to lead his team on offense after he struggled in the first 30 minutes of the game. However, the Steelers hung onto their lead and grabbed their first win of the season 30-27.
Fitzpatrick's performance in team's first loss this season
Fitzpatrick has stunned football fans as he is the only player to throw for 400 yards and 4 touchdowns in each of his first two games. In these first two games this season, Fitzpatrick had plenty of time in the pocket. According to Sports Info Solutions, out of Fitzpatrick's 61 pass attempts in his first two games he was only under pressure for 13 pass attempts. On his 48 unpressured pass attempts he had completed 41 for 638 yards and six touchdowns.
However, this was not the case Monday night against the Steelers. Head Coach for the Bucs, Dirk Koetter, said that his team did not do as well of a job protecting Fitzpatrick as they had in their previous games. This could be a direct reason of why Fitzpatrick struggled in the first half.
Fitzpatrick started the game completing just 11 of his 21 passes for 184 yards. He threw one touchdown and three interceptions in the first half. Pittsburgh's defense capitalized on one of these interceptions, which therefore led to them returning it for a pick six.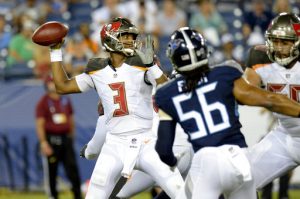 The Numbers
Compared to Fitzpatrick's last season stats, he has already completed more passing yards and two-thirds of his completions last season in his first three games this season.
2017 Season

6 games 1,103 yards 96 completion
58.0% completion average
2018 Season so far

3 games, 1,230 yards 78 completions
70.3% completion average
Jameis Winston will be back from his three-game suspension for this weekend's game against the Chicago Bears. Winston has been the starter the past three seasons with the Bucs and his numbers compare to Fitzpatrick's regular season stats.
2017

13 games 3,504 yards 282 completions
63.8% completion average

2016

16 games 4,090 yards 345 completions
60.8% completion average

2015

16 games 4,402 yards 312 completions
58.3% completion average
Winston has continued to improve on his offensive performance for the Buccaneers since he began with the team as their starter in 2015. Although most talk has been about who will be on the field this Sunday against the Bears, Head Coach Dirk Koetter said he his happy just to have Winston back in their locker room.
Some people think Fitzpatrick should keep his job even after his shaky performance in the first half of the game against the Steelers. According to FiveThirtyEight.com in Fitzpatrick's first two games of the season his 13.4 yards per attempt and 15.3 adjusted yards per attempt was the most dominant two-game start to a season since 1972.
Buccaneers after their first loss of 2018 season
Koetter said after this loss he will have to talk with Jameis Winston before naming their starting quarterback for the game this weekend.