The undefeated Kansas City Chiefs travel to Denver to take on the Broncos in an AFC West division rivalry match-up.
The Chiefs
The Kansas City Chiefs are running an explosive offense led by second-year quarterback Patrick Mahomes. Mahomes 13 touchdowns in the first three games of the season set a new season. A record previously held by Peyton Manning who threw for 12 touchdowns in three games back in 2013, according to MSN Sports.
Mahomes is supported by a talented group of receivers including veterans Travis Kelce, Tyreek Hill, and Sammy Watkins. Hill leads receivers with 310 yards and three touchdowns on the season. Despite the success of their passing game, the Chiefs have failed to establish an effective run game.
Chief's head coach Andy Reid is pleased with his team's ability to make plays.
The Chiefs defense has continued to struggle over the course of the season, ranking last in the league for yards allowed. The Chiefs have allowed opponents to score an average of 30.7 points.
The #Chiefs are in the midst of their most successful stretch over Denver in more than 40 years.

They'll put that winning streak, in addition to their perfect record, on the line tomorrow night.https://t.co/EiBd4Lx9Zf

— Matt McMullen (@KCChiefs_Matt) September 30, 2018
The Broncos
The Denver Broncos look to rebound after suffering a tough loss to the Baltimore Ravens, 14-27, in Week 3.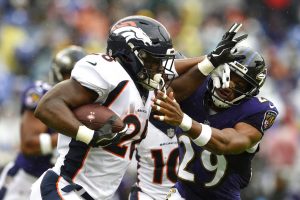 The Broncos defense has been averaging 262.7 yards and struggled against the Baltimore Ravens. Denver looks to improve their pass defense against a more talented and dynamic Kansas City offense. 
Denver's offense has been successful with their run game, averaging 144.7 rush yards in their first three games. Running back Royce Freeman leads the team with 152 yards and three touchdowns this season.
Defensively the Broncos have been able to shut down their opponent's run game and rank third in the league for rush yards allowed. The Broncos will go head to head with a Kansas City team that has struggled to gain rush yardage. 
It doesn't get much better than this.

RT if you're ready for GAMEDAYYYYYYYY!#BeatTheChiefs pic.twitter.com/SVKn2Y2zen

— Denver Broncos (@Broncos) October 1, 2018
Mile High @PatrickMahomes5 magic?

10 things to watch in #KCvsDEN on #MNF: https://t.co/xRLewUYKOH #ChiefsKingdom #BroncosCountry pic.twitter.com/6xhtqVJmCW

— NFL (@NFL) October 1, 2018
The Chiefs and Broncos rivalry dates back to 1960, with the Chiefs leading the rivalry series 61-55. Live coverage of tonight's Monday Night Football match-up will begin at 7:30 right here on ESPN 98.1 – 850 AM WRUF.