The Cleveland Indians and the Houston Astros will open up Game 1 of the 2018 American League Division Series today in Minute Maid Park. This is the first time these two teams will meet in the playoffs.
Back to Back
The World Series Champs are back-to-back AL West champs. They clinched their title in a series against the Oakland A's.
Will the Astros pull a New York Yankees and become World Series champs two years in a row?
#NeverSettle is a hashtag that has recently been trending with the team. In September, the Astros went 21-6 with a 0.777 winning percentage. This ranked as the best month for the Astros in franchise history.
Go time. #NeverSettle pic.twitter.com/XGeRLBhGuf

— Houston Astros (@astros) September 30, 2018
Justin Verlander will be the starting pitcher for the Astros for the remainder of the postseason. In 2018 season, Verlander went 16-9 for his team, had 290 strikeouts and was awarded 2018 AL Strike Out Leader.
The Drought
The Indians haven't won a World Series since 1948. However, the Indians have clinched their spot in the playoffs for the third straight year. They were the first team to take home a division title this year after a win against the Detroit Tigers. Will this be their year?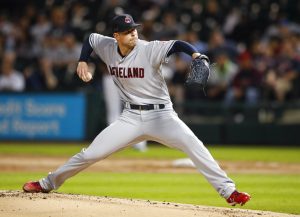 Pitcher Corey Kluber will start Game 1 of the ALDS. He won 20 games for the Indians this season and is a three time all-star. #KluberDay is a hashtag that has been recently gained a lot of traction on the Indians twitter. Kluber has potential to be the Astros kryptonite.
The Game
First pitch of the game starts soon. Game 1 up can be seen on TBS at 2:05 p.m.
Looking Ahead
The best-of-five series continues for…
Game 2 on Saturday at 4:35 p.m. at Minute Maid Park.
Game 3 on Monday at 1:30 p.m. at Progressive Field.
(If a) Game 4 on Tuesday at 4:35 p.m. or 7 p.m. at Progressive Field.
(If a) Game 5 on Oct. 11 at 4 p.m. or 7:30 p.m. at Minute Maid Park.