Florida hosted the previously ranked #5 LSU Tigers on Saturday and it was the biggest recruiting weekend for the Gators so far this season. The Gators won 27-19, and the fans were in full force to create a great atmosphere for recruits.
Class of 2019
Deyavie Hammond 4 star OG from Lakeland, FL.
It was Hammond's first Gator game and he felt right at home.
He was impressed with how the O-line finished the game strong.
Hammond said he will probably take an OV to LSU in December and OV's to Florida and FSU in January. He mentioned that he loves both Florida schools and is looking forward to seeing how they do against each other on November 24th. Recently Mississippi St. has also been reaching out to him. Hammond is wanting to sign in February.
Lloyd Summerall 4 star WDE from Lakeland, FL.
Summerall enjoyed the electric atmosphere and said, "Everyone was on the same beat."
During the game Summerall watched Jachai Polite, because he would come off the ball so powerful.
Summerall has an OV planned for Nebraska during the Michigan St. game in November and he's probably going to do the rest of his visits in December. Summerall wants to take OV's to Florida, Miami, LSU, and Auburn and wants to sign in December to enroll early.
Lloyd Summerall likes to bring a plus one to Gators games. The plus one is a doll named Chucky from the movie Childs Play. The Chucky Doll tradition is something DT Dominique Easley started back in 2011.
Keon Zipperer 4 star TE from Lakeland, FL.
Zipperer said that the coaches have emphasized how they have 3 senior TE's and would want to use him early on in his career. He's planning on going to Penn St., Florida, Miami, Alabama, and Oklahoma to take his OVs. Zipperer likes that all those schools use their tight ends a lot.
Zipperer is teammates with Summerall and like his pal Zipperer also has a Chucky doll. He explained that it's a Florida tradition and he wanted to be apart of that tradition.
Class of 2020
Jakhi Douglas 4 star WR from Houma, LA.
After the game Douglas said it was, "Great to see the Gators come out with the Dub."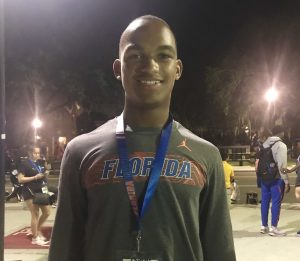 Douglas talked to Coach Mullen and Coach Knox before the game. The coaches said that he could be like Percy Harvin. However, while the 2008 team was honored (including Harvin) during the game Douglas didn't get a chance to meet Harvin, but he did get to meet Tim Tebow.
The schools that are making Douglas a priority are Florida , Alabama, LSU, Mississippi St., TCU, and Tennessee. He said that right now he has Florida in his top spot. He'll most likely be making his verbal commitment before the start of the 2019 season.
Timothy Smith 4 star DT from Sebastian, FL.
Saturday was Smith's 2nd visit to Florida. He said that the fan based really impressed him this time, because he couldn't hear a thing. Smith thought the D-line had "phenomenal hands" and he really likes coach Sal, who coaches the DL, because he reminds him of his high school coach.
Miami and Clemson have kept up with him the most, but Smith said "communication is key" for Florida to jump into one of those top spots.
Fred Davis II 4 star CB from Jacksonville, FL.
Davis says that after the win over LSU, "Florida is definitely DBU."
He said his tops schools are Florida, Alabama, Miami, UGA, Ohio St., Oklahoma, and LSU. Davis wants to commit his senior year.
EJ Smith 4 star APB form Dallas, TX.
EJ Smith son of Gator Great Emmitt Smith, was in town for the game. Like his dad, Smith is a RB and he was impressed with Florida's run game.
He thought Franks was reading the defense well and also thought the offense has improved since Coach Mullen has been at the helm.
Smith said he's trying to stay open minded about schools, but he also talks to Coach Mullen, Coach Gonzales, and Coach Knox quit a lot.
Joshua Braun OT from Live Oak, FL.
After the big win, Braun emphasized how much he enjoys the culture at Florida.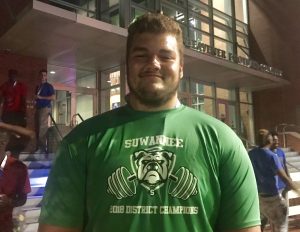 Braun said he has a good relationship with Coach Hevesy and likes how honest he is with him. Braun talks to Florida, FSU, South Carolina, UGA, Alabama, USF, Virginia, and USC. He'd like to commit during the Spring. He also says he's evaluating the academics of the schools, the OL coach and location of each college (in that order) to make his decision.
Guys on Official Visits
There were 4 high school players on official visits this weekend among them was 4 star SDE and Bama commit Bryon Young. Also, in attendance was 4 star S Lewis Cine, who is scheduled to be making his commitment on October 10th at 3:04pm. 4 star WR Elijah Higgins was also on an official visit. Gator commit and 4 star CB Jaydon Hill was on his OV. Hill committed back on September 6th.
https://twitter.com/_jhill5/status/1048959057908981760