Over the NFL offseason, the league decided to make new rules or rule changes that ignited a lot of controversy aimed at commissioner Roger Goodell.
With the NFL season in full swing and nearing the halfway point, Goodell spoke at the Fall League Meetings. Goodell addressed issues and concerns with teams throughout the league.
Players kneeling for the anthem was not a topic for discussion at the meetings. Even with that off the docket, Goodell still spoke about many current and future problems that the league will encounter.
Seahawks On the Move?
With Seahawks owner Paul Allen passing away earlier in the week there needs to be a resolution on who will be the new owner. There has also been some speculations that the new owners of the team might move the franchise.
All those comments and rumors were shot down and there was no discussion going on between Goodell and Seattle's front office about that topic.
NFL's Roughing the Passer Problem
One of the biggest rules that has upset a lot of players and coaches has been the roughing the passer rule. At the fall meetings, Goodell made clear that the league is prioritizing quarterback safety. This puts pressure on the players because it does not give a clear direction on what is allowed and not allowed when going after the quarterback.
Goodell talked about how these rule changes will enhance the offense in the game. He also mentioned how this will lead to less injuries throughout the season. What's viewed as a current problem throughout the league is seen to be beneficial in the long run from Goodell's statements.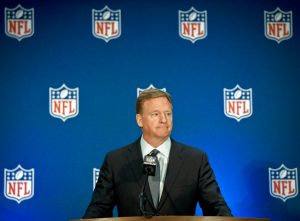 Raiders 2019 Home?
Things aren't looking to well for the Oakland Raiders this season. They sit at the bottom of the AFC West standings with a 1-5 record.
What's looking even worse for them is they don't have a place to play in 2019-2020 season. At the meetings, there was no update or much progress made on where the Raiders will call home next season.
What is known are updates on the progress that is being done for the Raiders new home in Las Vegas in 2020.
As the NFL season is closing in on the halfway point, there still are problems and confusion on rules that need to be adjusted and corrected immediately.
The numbers have shown that their has been less injuries in the pre season and up to this point of the season compared to where the league was at last year. After the season is over, there's hope that the NFL will not have to deal with these issues next Fall League Meetings.