"They expected to win the game for four quarters," Florida's head football coach Dan Mullen said after the Gators impressive win over South Carolina. "Every phase…offense, defense, special teams. We made the plays we needed to make, when we needed to make them to win the game."
After two tough losses, the Gators got back to their winning ways on Saturday when they took down the South Carolina Gamecocks 35-31. Many things went into the Gators taking down the Gamecocks, but a few factors that might have helped were being in the Swamp and having a fiery energetic crowd standing behind them.
"You look around the stands, and I keep saying, one feeds off the other," Mullen added about Saturday's turnout.
Florida now advances to 7-3 on the season and 5-3 in SEC play, while South Carolina moves to 5-4 on the season and 4-4 in conference play.
Game Recap
First Half: Rocky Start
It was a rocky start for the Gators as South Carolina scored on their first possession with a pass from quarterback Jake Bentley to Jacob August. Not long after Florida gained possession, Gator quarterback Feleipe Franks fumbled, but fortunately for the Gators, they recovered the ball. However, they couldn't get into any type of scoring position so it went back to the Gamecocks.
South Carolina gained possession and they scored again with a TD catch from Kyle Markway. At this point, the Gamecocks were leading the Gators 14-0 in the first quarter. Now Florida was going to have to lock-in if they wanted to stay in this game. And that's just what they did.
Early in the second quarter, Lamical Perine put Florida on the board with a touchdown and the Gators cut South Carolina's lead in half, making it 14-7.
TOUCHDOWN, #Gators!#RelentlessEffort pic.twitter.com/VX9JDQuphm

— Gators Football (@GatorsFB) November 10, 2018
After South Carolina couldn't score on their next possession, Florida worked their way down the field in a quick and efficient manner, which put them into good scoring position. Franks ran the ball in for the Gators and the game was tied at 14-14 halfway through the second quarter.
The tied game didn't hold long though.
Just before halftime, South Carolina scored again on a one-yard touchdown rush by Bentley, who jumped over Florida's defensive front and into the end zone. Now the Gamecocks were up 21-14 at the end of the first half.
Second Half: Winning Ways
Coming out of halftime, the Gators worked their way down the field, but came up short. Kicker Evan McPherson attempted a 41-yard field goal but missed. Later, Florida's Kadarius Toney fumbled a punt that was recovered by South Carolina's Deebo Samuel.  However, the Gator defense held and the Gamecocks had to settle for a field goal. South Carolina extended its lead to 24-14.
It was already a rough start to the second half for the Gators and it got a little bit worse. Late in the third, South Carolina lit up Florida's defense. The Gamecocks gained 89 yards after an impressive catch and run by Samuel on a Bentley pass.
DEEBOOOOOOOOO pic.twitter.com/rHAlJiOqd1

— SEC Network (@SECNetwork) November 10, 2018
Moments later, South Carolina's Rico Dowdle ran the ball in for the score and South Carolina extended its lead again to 31-14.
Shortly after though, Florida retaliated with a TD of its own by Toney making it 31-21 with South Carolina still in the lead. Then something changed. The tides turned and Florida's offense really came alive.
Just minutes into the fourth quarter, the Gator running game kicked into high gear and Perine scored another touchdown to make it a 31-28 game.  The Gator defense did its part to hold South Carolina and then Franks scored another rushing touchdown to give Florida a 35-31 lead.
https://twitter.com/GatorsFB/status/1061346275625484289
There was still time on the clock for Carolina to try to rally but CJ Henderson picked off a pass by Jake Bentley and the Gators ran out the clock to get the win.
Quarterbacks
Florida's QB Feleipe Franks struggled in his last few games, but he quickly turned that around in this game. He completed 15 of 21 passes for 161 yards and threw for one touchdown in Saturday's matchup.  As said earlier by Mullen, the fans really helped fuel this team today and Franks recognized that in the post-game presser.
"They did a great job of helping us win today," Franks expressed. "They're a big part of our winning base. Just want to let them know we appreciate them for that. "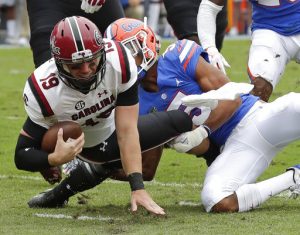 In addition to his thrown TD pass, he also ran the ball a lot during the game. He had 16 carries for 36 yards and had two rushing touchdowns. Mullen shared his thoughts on Franks' performance with running the ball and how he ran it harder and more physical. 
Jake Bentley started off strong for South Carolina but started to struggle toward the end of the game. He finished 18-28 for 239 yards with two touchdowns and one interception.
Also seeing some snaps today at quarterback was Toney, who had a powerful performance in Saturday's game. In his post-game interview, Toney talked about how after he dropped the punt return he knew he had to step up.
"I went and played with a chip on my shoulder and that just went and made the chip even bigger so it just made me go harder."
Mullen also had some positive things to say about Toney's performance and how when he gets the ball, exciting things happen.
Game Leaders
Rushing: (FLA) Jordan Scarlett had 18 carries for 159 yards; in all, Florida rushed for 367 yards in the game.  (SC) A.J. Turner had 12 carries for 81 yards.
Receiving: (FLA) Josh Hammond had five receptions for 35 yards. (SC) Deebo Samuel had four receptions for 120 yards.
What's Next
Next up, the Gators will host the University of Idaho for another noon start in just one week.
So, are all the Gators problems fixed? Not exactly. At least, according to Mullen, they aren't. But he added at least they get to fix those problems with smiles on their faces this week.