The Rays were stunned in the series opener as a rough first couple innings on defense snowballed into a 9-3 loss to the Seattle Mariners.
Rookie two-way player, Brendan McKay, struggled again. He gave up seven runs (three earned), walked three, and gave up three hits including two home runs in just two innings.
"You'd like to see gradual improvement, let's make some strides here and there,'' Cash told to the Tampa Bay Times, "Certainly the last two outings, a little bit of a rut. You know that that happens.''
McKay was optioned to Triple-A Durham after the game. However, the blame can't be placed entirely on him this time.
All four unearned runs came in the second inning. Yes, even the two-run home run by Austin Nola to make it 7-1 Seattle. The inning should have been over. The bullpen also gave up two earned runs.
There is no scapegoat. It was a rare rough night for the Rays and that is that.
No magic tonight. https://t.co/e2wg7fERY3 #RaysUp pic.twitter.com/JIVMk0Wg4R

— Tampa Bay Rays (@RaysBaseball) August 20, 2019
There were some upsides to this game, however. Tommy Pham shows that he is bouncing back from his mild hand injury. He picked up his 19th home run of the year in the bottom of the first. Austin Meadows continues his strong all-star season with a two-run home run in the bottom of the fifth inning. Jose Alvarado is returning to form by striking out the side in the third.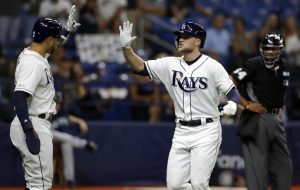 The Rays lost, but are still 20 games over .500. The Rays have posted an 11-5 record in the month of August thus far. Keep in mind this is the first loss to the Mariners this season. The Rays swept the series in Seattle.
Looking Ahead
The Rays look to bounce back against the Mariners in game 2 of the series. They'll go with opener Diego Castillo first inning or two and then hand it off to a bulk guy. This will likely be Jalen Beeks or Austin Pruitt.