The Miami Heat will make their first Conference Finals appearance since 2014 after defeating the Milwaukee Bucks 103-94 Tuesday night. The Heat now await the winner of the Toronto Raptors and Boston Celtics series.
How the Heat Got the Win
With six players scoring double digits, the Heat pulled off the upset against top-seeded Milwaukee. Miami was led by All-Star Jimmy Butler's 17 points, 10 rebounds and six assists.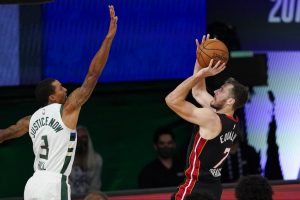 Goran Dragic also finished with 17 points and Jae Crowder added 16 points.
Miami rookie Tyler Herro shined against his hometown team, Milwaukee. The 20-year-old finished with 14 points, six assists, one block and one steal to knock the Bucks out of the playoffs.
Herro's impact did not go unnoticed. Butler praised Herro during the Heat's post-game conference.
Herroooooo Ball Lets Go!

— DWade (@DwyaneWade) September 9, 2020
Bucks Without Antetokounmpo
With Bucks' MVP Giannis Antetokounmpo out, the offense struggled. Antetokounmpo did participate in pregame warm ups, but ultimately was not cleared to enter the game.
Antetokounmpo irritated his sprained right ankle in the first half of the Bucks' Game Four overtime victory against the Heat.
Conference Finals History
The Heat's win over the Bucks is the first time a No. 5 seed has beaten the No. 1 seed since 2013.
The last time Miami found themselves in the Conference Finals both LeBron James, Dwyane Wade and Chris Bosh were on the team. Miami was eliminated by the San Antonio Spurs that year after a 4-1 series.
More Than Just a Conference Final Appearance
The Heat got the win, but they're not satisfied with that.
Butler says the team's eyes are on a championship.
The Heat have seven players who appeared in Conference Final games. Butler won't be in that group until the Heat play the winner of the Boston-Toronto series. He's been to the playoffs seven times but has never made it past the second round.
#HEATTwitter tonight was fun, but the job's not done. 8 more to go. Keep it going. pic.twitter.com/DutdpJOFG0

— Miami HEAT (@MiamiHEAT) September 9, 2020