Florida Gators baseball picked up where they left off from the FAMU series on the mound and at the plate.
The Gators took the lead early and held that lead for all nine innings to beat the Panthers, 5-1.
However, despite the five-run effort, Jacob Young had no part in it, and his 30-game hitting streak comes to an end, going 0-4.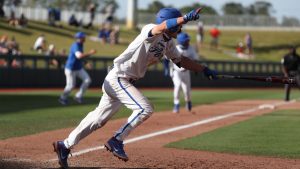 While the COVID-19 Pandemic is a factor in the making of this stat, this is the first time Young has gone hitless in a game since May 31, 2019. That's 648 days. To be exact, it was the NCAA Lubbock Regionals against Dallas Baptist, when the Gators lost 9-8.
Sully Continues to Make History
Gators head coach Kevin O'Sullivan further solidified his legacy in the win against Georgia State. This wasn't just a win. It was his 557th win as the Gators head coach. Why does this exact number matter exactly? It makes him the winningest coach in Gators history.
"It's a special night. Anytime you reach a milestone like this, there are so many people that are involved, whether it be staff, coaches, players," O'Sullivan said. "It just seems like yesterday that I got hired by Jeremy [Foley]. And having Chip [Howard] here tonight. They went out on a limb and gave me the opportunity to run a program. I'm forever grateful for the opportunity."
Sully broke a record that had stood for 46 years. Dave Fuller notched his 556th win in 1975 in his 28th season at command of the Gators ballclub. As for O'Sullivan, he took the record in just 13 years. O'Sullivan has the highest winning percentage for any Gators coach that has been at the helm for more than one season.
To be technical, Hugh Wicher had a .727 winning percentage in his one season as a coach in 1917. There were also only 11 games played on the eve of the United States entering WWI. Sorry, Hugh, it doesn't count.
Other Notable Moments
Kirby McMullen hit his first home run of the season on the first pitch he saw in the game. His two-run dinger is also the game-winning home run. McMullen waited a long time for that bomb, with his last being on Feb. 22, 2020, against Miami. That home run was also hit into left field–but on the second pitch.
Garret Milchin picked up his first win of the season, tossing four-scoreless innings, striking out three and walking none.
The Gators will be back Wednesday when they play at home against Stetson. First pitch is at 6 p.m., and you can catch the game on ESPN 98.1FM/850 AM WRUF.