The Orlando Magic host the Toronto Raptors looking to snap their four-game losing streak.
Looking for Magic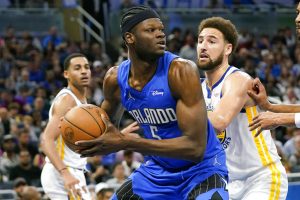 The Magic have had a rough run. Sitting at 20-57 and at dead last in the Eastern Conference, Orlando is in need of some good news. A win against Toronto tonight may be just what the team needs to turn their season around.
Offensively, Orlando needs to put focus on Cole Anthony (16.7 PPG) and Franz Wagner (15.5 PPG), their two leading scorers. If the Magic can muscle their way past the Toronto defense and continue to make shots, they can pull away with the win.
pretty good @SASsoftware x @franzboogie pic.twitter.com/mgHlHB4zDQ

— Orlando Magic (@OrlandoMagic) March 31, 2022
The Magic cannot just rely on offense, however, and their defense has not been something to call home about this season. Their two defensive leaders are Chuma Okeke, who averages 1.4 steals per game, and Mo Bamba, who averages 1.6 blocks per game. The Orlando defense needs to pull themselves together if they are to go toe to toe with the high-scoring Raptors.
Toronto Trouble
The Raptors will enter Orlando tonight heavily favored to win, with a -550 Moneyline. Toronto has been on fire recently, winning 10 of the last 12 games. Despite this, the Raptors cannot get too comfortable. The two teams faced each other in Toronto early last month, with the Magic snapping a nine-game losing streak and pulling out a win.
Toronto's main weapon in shutting down the Magic will be Pascal Siakam, who averages a massive 22.4 PPG. He also leads the team in rebounds with 8.3 per game. The Raptors have a long list of high scorers on the team, which should make the game a breeze against a Magic defense that has had trouble guarding the net all season.
https://twitter.com/Raptors/status/1509339282472902659?s=20&t=0ylo7PuRS5aU85HpiO6Fog
Defensively, however, Toronto falters a little. The team's leader in blocks, Chris Boucher only averages 0.9 per game. While the team is still aggressive in the paint, stopping the shot is going to be important to avoid another Magic upset.
While on paper Toronto should have the upper hand, Orlando is itching for a win, and the Raptors need to not get too comfortable. Anything can happen between these two teams, and it will be up to which team gives it their all.
https://twitter.com/OrlandoMagic/status/1509893222520266752?s=20&t=0ylo7PuRS5aU85HpiO6Fog
The game tips off at 7 p.m. on Friday, April 1 at the Amway Center.