The successful transfer that blossoms following a change of scenery. While it is a common trope in sports media today, many of these athletes have a hard time settling in with a new program. It takes a lot of hard work, dedication and sacrifices for these players to be successful with a new team. Oak Hall sophomore Troy Freeman embodies all of these traits. 
Freeman started out his high school career at Buchholz High School. However, midway through his freshman year, he transferred to Oak Hall. Freeman did not have many opportunities to pitch at Buchholz, whereas he received more time on the mound with the Eagles. 
A little over one year later, Freeman has established himself as a cornerstone of the Eagles' roster. He has worked his way up to becoming a leader in the dugout and the team's top-billed pitcher. Overall, Freeman has already come a long way in a little over a year with Oak Hall. With the team riding their best start in over a decade, the best is still yet to come for Freeman and the Eagles.
Finding Love For The Game at a Young Age
Freeman found an interest in baseball early on in his life. He had always enjoyed watching sports as a kid, but he felt a special connection whenever he saw baseball games on TV or in person. In Freeman's own words, baseball "became [his] sport". The love he felt for the game itself was unparalleled. One of Freeman's earliest mentors in learning about baseball was his own father.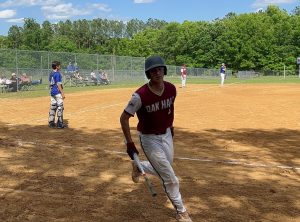 "My dad played a really big part for me getting into baseball," Freeman said. "He showed me all the basics, everything that I need to know. He's been helping me for a long time. He shows me videos I need to see about how to hit, how to pitch, how to play… He was definitely the one who got me into the sport the most."
Freeman soon started playing recreationally, spending his early years with Gatorball Baseball Academy. Later on, he would play for his school baseball team at Kanapaha Middle School. However, Freeman believes his biggest leap developmentally came when he joined the Florida Hardballers. The Hardballers are a travel baseball program that are coached by John Colacci and Kevin Maris. Maris also serves as the Head Coach of Oak Hall's varsity baseball team. 
"A big part of when I started learning was when I joined Hardballers," Freeman said. "That's when I got started with pitching, I got started with playing third [baseman], I started with a lot of different things. My hitting got much better. Coach Maris was a big part [of that]."
Freeman credited Maris as a major contributor to his growth over the last four years. During our interview, Freeman described his relationship with Maris in detail and how Maris has helped him improve both with the Hardballers and the Eagles.
Making a Big Switch Early in High School
Freeman had already put together an impressive resume prior to his freshman year of high school. With multiple tournament appearances with Gatorball and the Hardballers under his belt, he had already picked up plenty of experience. He started his high school career with the Buchholz Bobcats. The Bobcats had one of the better baseball programs in the Gainesville area, and Freeman hoped to compete for his spot there.
However, while he did get opportunities with the baseball team, it was not the opportunity he wanted or needed. Freeman knew that he wanted to specialize as a pitcher and an infielder. But Buchholz wanted him to stick to being a catcher. It soon became clear that the school had different plans for Freeman than what he wanted to pursue himself. As a result, he left Buchholz High School midway through his freshman year.
"Buchholz wasn't giving me the chances I needed [to pitch]. I only started one game, and I did really well against Santa Fe, but they didn't give me a chance… They kept me as a catcher," Freeman said. "A big part about [Oak Hall] was I was able to do what I'm best at, which was pitching. Over there, I couldn't do that. They didn't want me to be a pitcher."
Freeman wound up transferring to Oak Hall in January 2021. While he still spent a large portion of his time playing catcher, Freeman also saw more opportunities on the mound. In six appearances on the mound in 2021, Freeman finished with a 2.14 ERA and a record of three wins and one loss. In games where he did not pitch, he volunteered to serve as the Eagles' catcher. Freeman's willingness to put his own preferences aside for the good of the team impressed Maris early on.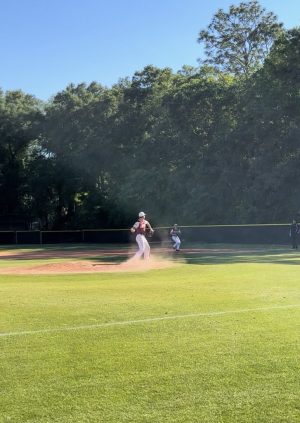 "We had a big kid, about 6'6″, a right-handed thrower, [his name was] Levent Eldum. We didn't really have anyone to catch [for] him," Maris said. "Troy had caught a little bit in travel ball, but not a lot. He stepped up to the plate and said he would do it for me. I know that's not what he really wanted to do at the end of the day. But he took the bull by the horns, went ahead and said he'd tackle that position… Troy went above and beyond the call of duty."
Finding His Footing and Blossoming with the Eagles
After his initial season with the Eagles, Freeman started to really settle in with the team. With incoming freshman Brody Beaupre taking over at catcher, Freeman moved back to the infield whenever he was not pitching. Maris noted that this helped put Freeman at ease and allowed him to become more comfortable with his spot on the team.
Freeman's adjustment to Oak Hall went smooth both on and off the field. While he already knew Coach Maris and a couple of players from the Hardballers, there were still plenty of teammates Freeman had just met for the first time. However, the team welcomed him with open arms. He quickly built friendships with everyone inside the dugout.
"The biggest change [from Buchholz] was that I became really close with my whole team through this last year and a half," Freeman said. "They treat me like a brother, and I've really enjoyed it."
One reason Freeman quickly hit it off with his teammates was his personality. In addition to being a hard worker, Freeman always supports his fellow players however he can. Whether it's making a hard throw over to first base or helping someone with their homework during breaks in practice, he always does everything in his power to help his team succeed. This selfless attitude has earned him respect from his teammates and has propelled him into a leadership role for the Eagles.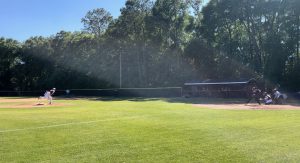 "He's definitely a big leader for the team. All pitchers are, but especially Troy, being as much of a presence on the mound as he is," Beaupre said. "He's always nice to everybody. Nobody ever wants to fight with him or argue with him. That makes him really good in a leadership role."
Taking Command on the Mound in Year 2
By the time baseball season kicked off in 2022, Freeman had already made his presence felt with the Eagles. Maris went on to name him the starter on the mound in the team's season opener. Throughout the season, Freeman has served as the team's go-to pitcher. He has started five games pitched 22 2/3 innings this season; for reference, Jack Kuzmicki has pitched the second-most innings for the team with 14 1/3 innings.
Freeman's pitching has helped facilitate a fantastic season for Oak Hall this year. In six appearances at the plate, Freeman currently maintains a 4.324 ERA with a record of three wins and one loss. However, his most impressive achievement this year came on March 29 against the Redeemer Christian Lions. In a 10-0 mercy-rule victory for the Eagles, Freeman pitched a perfect game, allowing no hits or walks and striking out five batters. No Oak Hall pitcher had ever accomplished that feat before.
Ballgame! The Eagles cap off one of their finest outings this season with a fantastic 17-0 victory. Troy Freeman pitched a perfect game in four innings, while the Eagles rode a dominant first two innings on offense to take early control of the game. pic.twitter.com/jLC6Ly4FBD

— Jack Meyer (@jackmeyerespn) March 29, 2022
Playing such a large role in the team's bullpen is a responsibility that Freeman does not take lightly. Later on in our interview, he talked about how he feels knowing that the coaching staff has entrusted him with such an important task.
In addition to his time on the mound, Freeman served as a formidable hitter and third baseman for the Eagles as well. Freeman has made multiple impressive plays in the infield throughout the season; he currently holds a 0.952 fielding percentage and has only committed one error so far this season. Freeman also maintains a batting average of 0.333 so far this year, ranking second on the team for triples (2) and third for RBIs (13).
The runs keep coming! A monster 2-RBI double from Troy Freeman brings home Jackson Beach and Harrison Beach. In the following play, Neil Ruth hit a 2-RBI double of his own to extend the lead to 13-0. The Eagles have only picked up one out so far in the bottom of the third inning. pic.twitter.com/0TTqgzVaNi

— Jack Meyer (@jackmeyerespn) April 8, 2022
No Plans To Turn It Down Any Time Soon
As the Eagles enter the home stretch of their regular season, they appear to be hitting their stride. The team currently holds an 8-2 record, marking their best start to a season in over a decade. With a cohesive locker room led by Freeman and multiple other team standouts, the team hopes to make Oak Hall history by the time it is all said and done.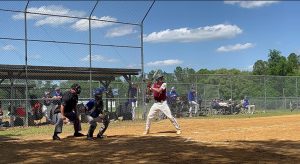 With the level of play Freeman and the Eagles have performed at, many tend to forget how young the team is. Freeman still has two years left with Oak Hall after this season. Additionally, every member of the team will be eligible to return for the 2023 season. Maris is excited to see what the future holds for both Freeman and the team as a whole.
"A lot of kids don't have that cool and calmness under their belt that he's shown," Maris said. "He's only getting better with it. It's nice that he's only a sophomore."
With his love for the game, easygoing attitude and commitment to getting better every day, the sky is the limit for Freeman. Maybe not even the sky. Or the moon. Or the stars. With a player like this, there are no limits. All you can do is sit back, relax and enjoy the show. And with Troy Freeman, it will almost always be a show you won't forget any time soon.