To celebrate International Education Week, WRUF is publishing profiles of UF student-athletes all week.
When Alberte Rimdal committed to the University of Florida, the first Danish player to play for the program, she was already an accomplished scorer. But few could have predicted how large a role she would play on the Gators team as early as her freshman year.
Rimdal Transitioning to the SEC
In her first year playing collegiate basketball, Rimdal earned SEC All-Freshman team honors and helped propel the Gators to their best record since 2016.
However, her fast adaptation on the court can be misleading. She made it clear playing in the NCAA is very different from her previous basketball experience.
https://twitter.com/GatorsWBK/status/1498707134871064581
"It's so different from what I came from," Rimdal said. "It was so much more professional and the level of basketball was so much higher."
She has a lot of respect for the level of play in the NCAA and SEC, as Rimdal had not only participated in the Danish Women's League, the highest-level league in her native country, but she also represented Denmark on the national team.
"That was probably the highest level I played prior to college," she said. "That's like professional players, and they're really good."
Rimdal on Professionalism in the NCAA
Although Rimdal had played against professionals in the Danish Women's League, there is a certain "professional" feel around college basketball that sets the NCAA apart.
"I love how much time coaches and my teammates put in and how dedicated and passionate everyone is," she said.
Rimdal also made a point to credit the coaching staff for the direction the program is moving. Specifically, she gave credit to Head Coach Kelly Rae Finley.
"I really like Kelly, as a coach and as a person," she said. "She is just amazing and I think we're all really excited that she leads this program."
Finley became the team's official head coach this past February, seven months after she had taken over as interim head coach following the departure of Cam Newbauer in July 2021.
Her first year leading the Gators impressed peers, critics and her players alike. She was named the USA Today Sports Network SEC Coach of the Year and the Spalding Maggie Dixon Rookie Coach of the Year by the Women's Basketball Coaches Association. Finley was also a semifinalist for the Naismith Coach of the Year award.
"She's obviously very passionate and dedicated," Rimdal said. "She cares about us as players but also as humans, first."
Rimdal's Love of Basketball
Rimdal has played many different levels of basketball, but her current program has bolstered her love for the game, a love she first developed at a young age.
"Basketball kind of just took me," Rimdal said with a big smile on her face.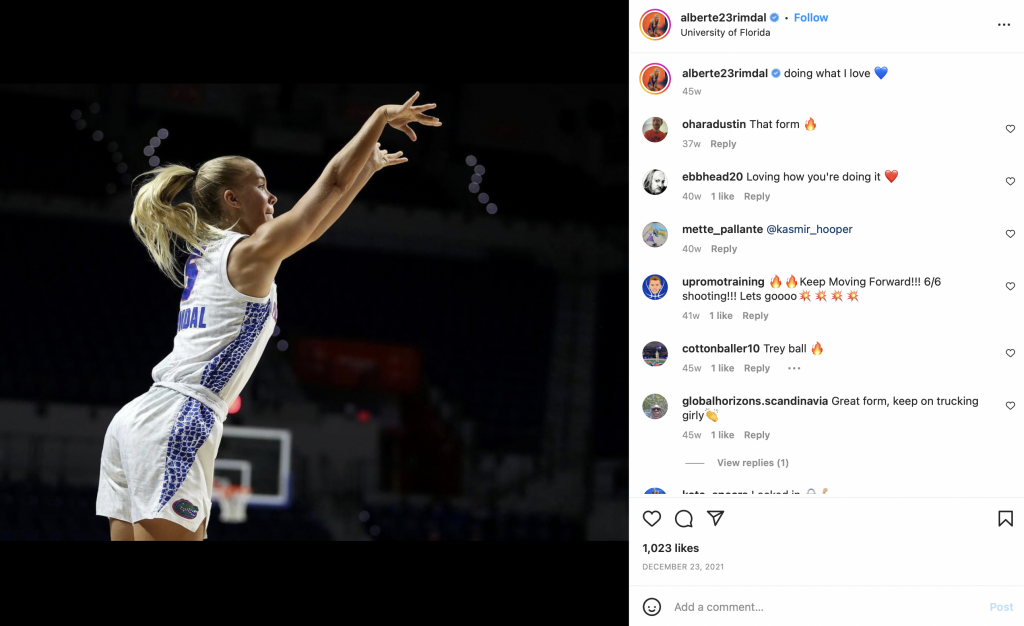 And the sport took her well, as she transitioned from playing in Europe to playing collegiate basketball in the US. In addition to her SEC All-Freshman team honors, she became the first freshman in program history to have back-to-back games with five three-pointers.
She ended the year averaging 4.5 points per game, playing in all of the team's 32 contests.
Where did the love of basketball come from? Her father.
"My dad played basketball so I was always in the gym with him since I was very small," she said. "My dad was my first coach, so he started the team with all my friends."
From there, Rimdal grew and developed her game. After joining her first team at the age of eight, Rimdal needed only a few years to become a prominent player. She began representing Denmark on the youth teams at the age of 15.
Looking to the Future
Looking ahead to her sophomore season, Rimdal looks forward to playing with her teammates, including the new additions as the Gators brought in two talented freshmen and a slew of transfers for the upcoming season. Notably, KK Deans, who led West Virginia in scoring last season, and Ra Shaya Kyle, who did the same with Purdue, are joining the Gators.
"We've gotten a lot of new, great additions," she said. "I'm really excited to see how we grow as a team with them."
In terms of her personal goals, Rimdal says that she has taken steps to become a leader of the UF squad.
"I have worked on being more confident and I hope that I can step up and take a bigger role this year," she said. "Now that I know what it's all about, I know freshman year everything is new…but I'm excited to see what we can do this year."
Canadian teammate Faith Dut, who is entering her senior season, understood the importance of Rimdal growing her confidence.
"We had some really good conversations this summer just about how I can help her find more confidence in being a point guard," Dut said. "Last year was a little bit easier for her, taking a back seat and learning from Kiki [Smith]…I don't think she realized how hard it was for [Smith] to get where she was."
Continuing to Transition
Rimdal will hope to apply that confidence to her game this season for the Gators, and it started off well during the team's exhibition game against St. Leo on November 2. She scored 15 points in 25 minutes, also adding 3 assists and 1 rebound.
https://twitter.com/GatorsWBK/status/1587967765846970368
Rimdal's confidence has grown, but she still has some getting used to in the United States.
"My least favorite thing about moving to America… I don't like the way Americans use plastic," she said. "Where I'm from… plastic cups and straws are illegal. It's so weird for me to see like when you go to Walmart they put four things in eight bags."
That has been the hardest part of transitioning to culture in the US for Rimdal. Meanwhile, she has fully adapted on the court and she is looking forward to more basketball.
"Obviously I want to play basketball as long as I can," she said.