As college football heads toward conference championship weekend, the playoff committee made some changes in this week's top 25 rankings.
Changes in the Top Four
The deck has been shuffled as far as the top four teams in the country are concerned according to the rankings that matter. This comes as no surprise as either Michigan or Ohio State had to lose Saturday. They went head to head in Columbus. The game began with Ohio State ranked at two and Michigan ranked a three. It was not out of the question that a great football game could keep both teams in the top four.
The Wolverines did what most thought they could not as they absolutely dismantled the Buckeyes on the road with a 45-23 score. This major loss led to Ohio State being showed the door out of the top four, with the new rankings going as follows.
https://twitter.com/CFBPlayoff/status/1597757515835772932
TCU has moved from four to three and Michigan from three to two.
The new kid on the block is USC. It is coming off back-to-back ranked wins over UCLA and Notre Dame. The Trojans do have to go play their only loss on the season, Utah, in the Pac 12 Championship Friday night.
Ohio State is still very much alive. At its current No. 5 ranking, it could presumably get in with a USC or TCU loss this weekend.
The Rest of the College Pack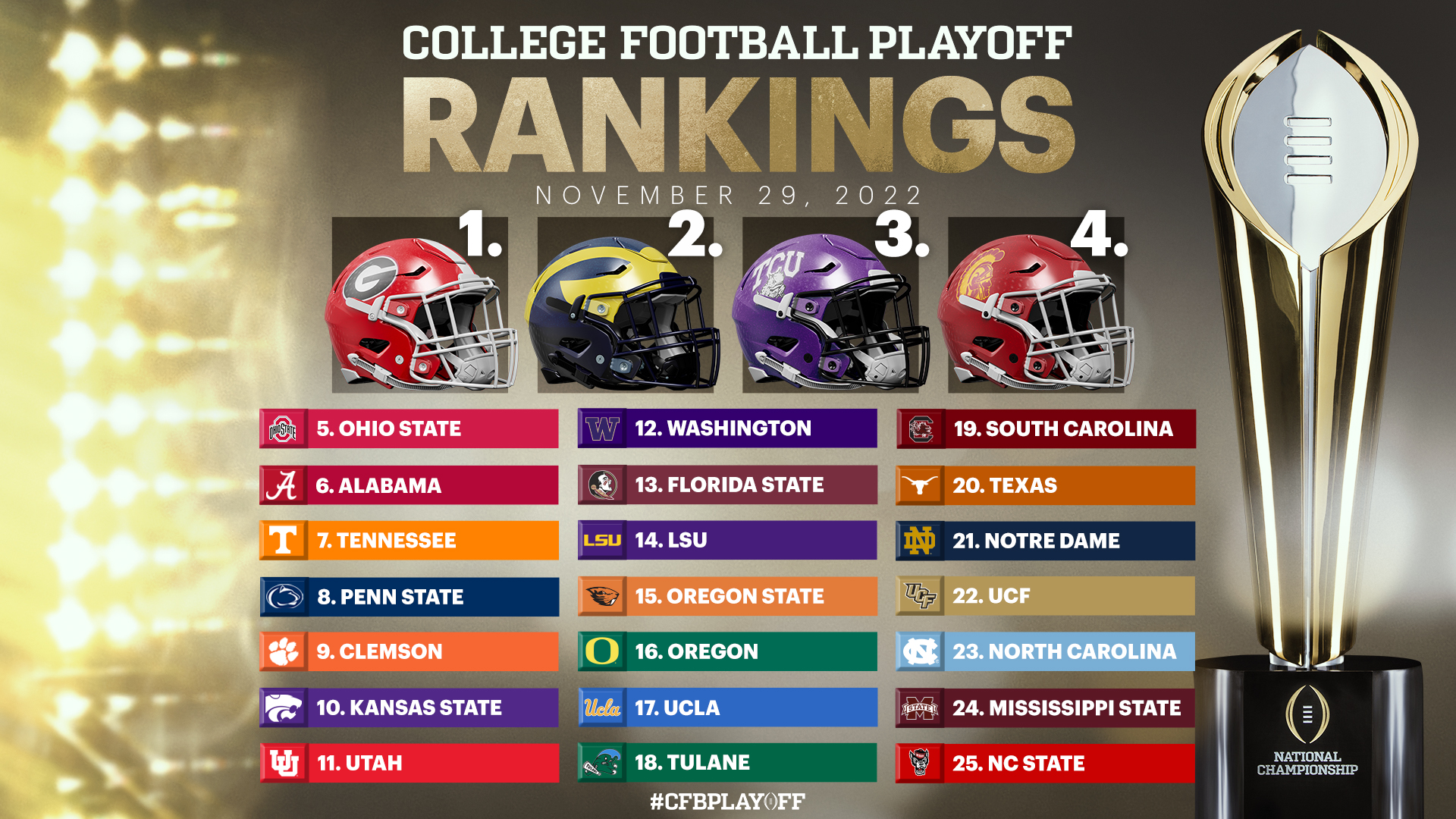 There are a couple things of note in the rest of the top 25. Alabama jumped over Tennessee despite both teams having two losses and Tennessee winning the head to head matchup. Another interesting occurrence is Kansas State sitting at 10 over a Utah team that has the same record. Utah seems to have "better losses" with Kansas State losing to Tulane at home. However, the committee has Tulane ranked at 18 despite the fact that it was beat by UCF at home three weeks ago.
Ole Miss dropped out of the rankings and Mississippi State jumped in as it upset Ole Miss in the Egg Bowl last week. South Carolina also finds itself in the rankings at 19. It finished the season on a tear, beating Tennessee and Clemson in back-to-back weeks.
It will be interesting to see how conference championship weekend plays out. Everyone will wait and see who the committee ultimately puts in those coveted top four spots.